Make a day the whole family can enjoy with a trip to Jordan, MN to visit the famous Minnesota's Largest Candy Store! Larger than life with rows upon rows of familiar and exotic candies, the Candy Store has treats for every taste.
We spent the morning hiking in the wild and the woods are for sure alive. There is no better time to hike in the woods than in the morning. Whether you're hiking, camping, exploring, or just on a nature hike, mid summer can be a bit challenging. Read More.
We are in Nisswa Minnesota on a family friendly, outdoor outing to pick the best tasting organic strawberries. The Brainerd Lakes area picking some of the freshest, best tasting strawberries central Minnesota has to offer!
If you do just a little research, you will find there are Native American Burial Mounds all over Minnesota. On the shores of Upper Gull Lake, by Brainerd, there are several. And they can be quite tough to find unless you know what you're looking for.
The Safari North Wildlife Park is a surprise gem tucked into the woods of the Brainerd Lakes Area which is home to many local and exotic animals. Located just a few miles outside of Brainerd on State Highway 371, Safari North is just a quick drive for hours worth of fun.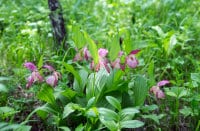 This is a journey through a tamarack swamp bog in the effort to find a 100 count wild Lady Slipper patch in Central Minnesota. It was a success! It was a fun hike in the middle of know where. These orchids can be found in swampy bog areas throughout Minnesota.
Things are heating up outside and colors are exploding all around us as nature blooms. While these are the best days to enjoy activities outside, you may still need some quiet indoors time. Or maybe just a project to create with all the fun nature finds from your last outdoor adventure. Explore these 5 Fabulous Summertime Art Time Projects for ideas for your next stay at home day with the kids.
The Como Park Zoo in Saint Paul, Minnesota is just an easy two hour drive south for a unique day of family fun. While you may think you're coming for the animals, the Como Zoo is home to many family friendly activities such as Como Town Amusement Park, The soaring Eagle Zip Ride, and The Splash Park.