American Tribal Style® Belly Dancing in the Brainerd Lakes Area with Vespertine Tribal
December 11, 2014
Shelly Summer
"Imagine this: there was a time in history, a long time ago, when the bounce and sway of a woman's hips
was considered so beautiful that they set it to music and made a dance out of it."
– Carolena Nericcio-Bohlman
Maybe you've heard of American Tribal Style® belly dancing, or maybe you're just seeing it for the first time. You hear the heavy beat of the drums and see the troupe, barefoot and covered in jewels, and you can't help but be mesmerized. The moves are fluid and seem so natural and yet, all four women are moving perfectly in time and in sync with one another. While you may have some preconceived ideas about belly dancing and what it is all about, I guarantee that Vespertine Tribal will open your eyes to this new and exciting modern take on a beautiful and ancient dance.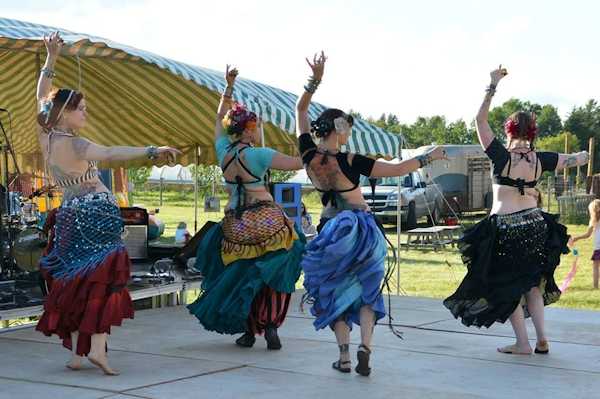 Vespertine Tribal Performs at A Midsummer's Faire at St. Mathias Park. photo credit Danielle Bock
For the gals that make up the American Tribal Style ATS® belly dancing troupe Vespertine Tribal, dance is more than a job or an art, it's a way of life. Jessica Bleichner, Meggan Shepard, Noelle Bastian, and Stephanie Kloss are the dynamic foursome that not only performs in and out of state, but also teaches classes ranging from ATS® to hooping at the Franklin Arts Center right here in Brainerd, MN.
Vespertine TribalFounded in the winter of 2011, Vespertine Tribal is one of the top belly dancing troupes in the Brainerd Lakes Area and they are a sister troupe to FatChanceBellyDance®, the original ATS® dance troupe.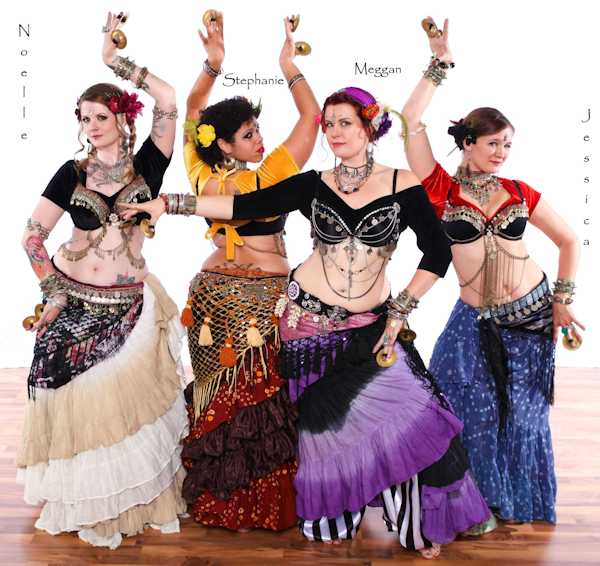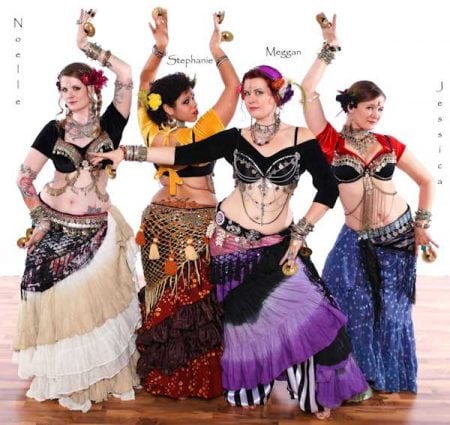 FatChanceBellyDance® was created in 1987 by Carolena Nericcio-Bohlman and combined traditional belly dancing moves from North India, the Middle East, Spain and Africa with a number of modern influences including jazz, tap, theatre, and hip-hop in an attempt to create art through dance. Nericcio-Bohlman's concept was a huge success, with ATS® belling dancing troupes across the country today. The "new" dance style sweeping the nation landed in the heart of the Brained Lakes Area nearly four years ago.
Said Shepard, "I first heard about ATS® from Jessica Bleichner about four years ago. I came to see her very first performance and I instantly fell in love with the beauty, grace, and community of the dance."
Scattered across the Brainerd Lakes Area, these four beauties from different backgrounds came together to form their troupe and to plan where to go from there. Starting out performing at the open mic night at the Last Turn Saloon in Brainerd, they have worked hard to carve out a name for themselves in the belly dancing community. photo credit Billie Jo Photography
"We started out performing at open mic night at the Last Turn Saloon and now we have grown into teachers and instructors and are sharing a studio with the Lakes Area Yoga Association and Everett Churchill who teaches Okinawan Karate," said Kloss.
The Franklin Arts Center opened it's doors in 2008 and is home to the Crossing Arts Alliance and houses artists, galleries, and studios ranging from media design to dance. Unlike anything the Brainerd Lakes Area has ever seen, The Franklin Arts Center made possible the dreams of many local artists to have their own studios, work spaces, and art related businesses.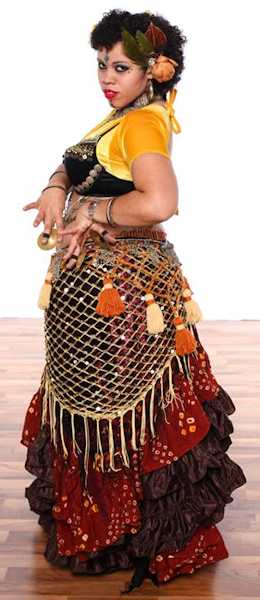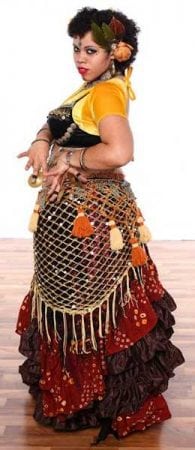 "The building has an amazing community of awesome artists," said Shepard. "We are lucky to have such great neighbors and a beautiful studio to have classes in."Stephanie Kloss ATS® Fashion
From practices individually and as a troupe, to the coordinated and often awe inspiring costuming, there's no doubt that the ladies of Vespertine Tribal are performers as much as dancers. They blend the concepts of art, music, dance, and fashion seamlessly with unique styling, props, and dramatic fashions for a one of a kind experience.
"ATS® fashion is beautiful and shows the female physique in one of the most flattering ways. It accentuates the beautiful, and distracts from most insecurities," said Shepard. "I love the strength and beauty of the costuming of ATS®."
"Having said that, I love to exercise my creativity and wear what I want and a lot of the things that I wanted to wear ended up being more Tribal Fusion, so that's part of what enticed me to Fusion. I get to wear what I want, no restrictions, as long as it's in good form and respectable of course."
Besides performing with Vespertine Tribal, Shepard teaches Tribal Fusion, which is a more diverse off shoot from ATS®, as well as scimitar or balancing workshops, choreography, and beginner and intermediate belly dance at the Franklin Arts Center.
"I absolutely love balancing and working with props," said Shepard. "It helps form and gives you something to connect with on stage, and it's a fun way to take dance to the next level. The most rewarding part about teaching is when I see the light bulb go on, and a move that they have been struggling with finally clicks into place."
photo credit Billie Jo Photography
While there are some general guidelines for what makes ATS® and it's fashion what it is, there is still so much room for the individual and their desired form of expression. Each member of Vespertine Tribal has her own unique style which just adds to the mystery and beauty of the troupe.
Bastian, a certified ATS® instructor teaches the Belle Vie Belly Dance class which is unmodified ATS® with a universal connection to the tradition style of American Tribal Style® belly dancing. Bleichner teaches classes ranging from hooping to fire performanceVespertine Tribal Fire Performance.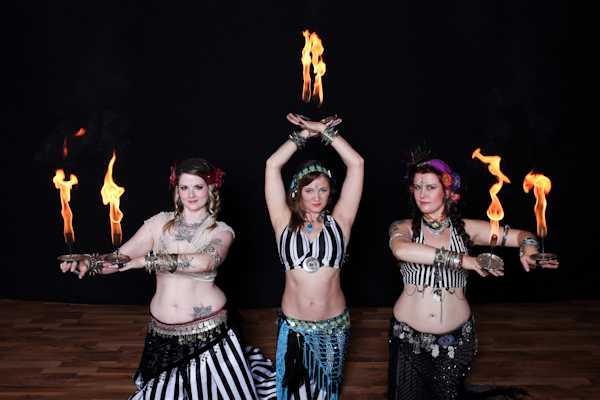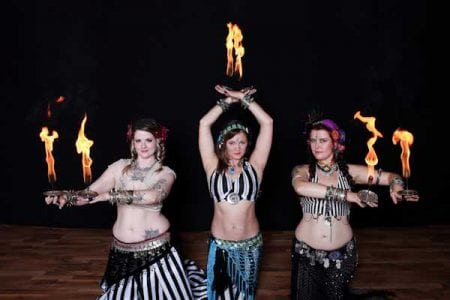 Don't worry, it might look dangerous, but these ladies definitely know what they're doing! Expect to see dramatic and amazing feats if you make it to a Vespertine Tribal show.
For Kloss, who is an active member of the Brainerd theatre community, belly dancing is just another way for her to express her love of performing.
Said Kloss, "I have been a part of live theatre since the 7th grade, mostly vaudeville, jazz, and a bit of tap. I freestyle whenever I get the chance. Theatre is my first love and then comes dancing."
Look for Kloss next as Mrs. Crachit in The Stage North Theatre Company's performance of "A Christmas Carol" at the Franklin Arts Center December 18-21, 2014.
photo credit Billie Jo Photography
One thing that all of the women in Vespertine Tribal have in common is that they all credit support from friends, family, and community as one of the biggest aspects of their success and love for ATS®.
"My friends are our biggest fans," said Kloss. "Personally, my aunt, uncle, and niece in Minnesota think it's great. Our dance community is full of positive, uplifting support."
Said Shepard, "My parents and siblings are very supportive. My husband is very supportive as well, and he also makes fantastic music for me to dance to, which is a real treat."
Besides the hours spent in the studio teaching and at home practicing, the troupe also performs in and out of the Brainerd Lakes Area several times a year. They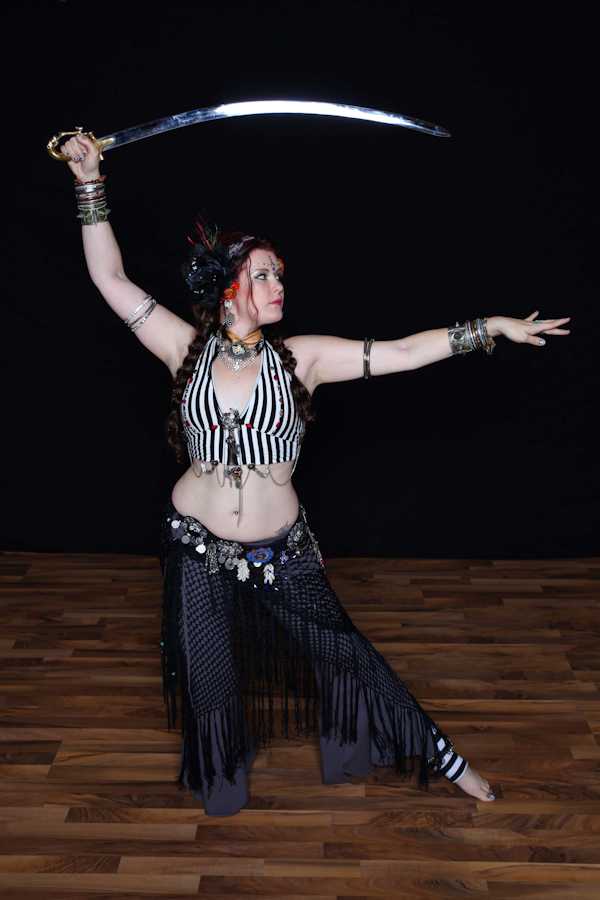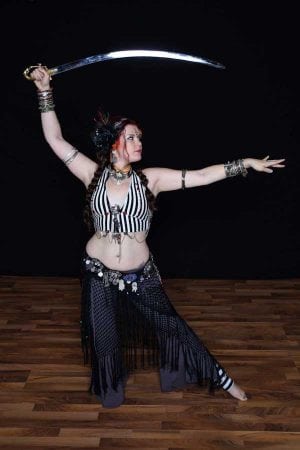 're frequents at MN festivals and often perform alongside other dancers and talented musicians.Meggan Shepard Scimitar
photo credit Billie Jo Photography
"I have a love/hate relationship with performing," said Shepard. "I have stage fright, but I love to dance and more importantly SHARE the magic of that dance. I put a great deal of thought and preparation into my performances and enjoy sharing my art form with others."
Said Kloss, "In the beginning, I danced for me. As I grow I want to move the dancers I'm performing with and share the joy with our audience members."
The ladies of Vespertine Tribal stress that while it is hard work, the reward is worth it and it really is something that anyone can and should try.
Said Kloss,"TRY IT! It is so much fun, but like anything new, it is hard work. Don't give up on yourself. You are learning how to move muscles in new ways. When people are dancing and having fun that is my reward, that's why I dance!"
Adds Shepard, "DO IT! Yeah, it may seem scary at first, but it's well worth it! Your body can do amazing things! And you will be surprised at how much it helps you grow other parts of your life, and about how you'll feel. I always wished I'd have found it sooner, but I'm grateful that I did find it!"
What's coming up next for Vespertine Tribal? Check out their studio open house in January and get ready for a brand new kind of show from Vespertine Tribal in February!
On February 21, 2015, Vespertine Tribal will host an event in the Blue Room at Yesterday's Gone in Brainerd. There will be a performance from 7:00-8:00 p.m. featuring dances by Vespertine Tribal and other talented dancers, followed by an open masquerade dance and live DJ from 8;00-12:00 p.m.
Admission is $15.00 for the night or $10.00 after 8:00 p.m.
Find classes and watch for more upcoming events at the Vespertine Tribal Facebook page.