Brainerd Lakes Vacationland Business Directory
Brainerd Lakes Area Summer Recreation Rentals
Brainerd Boat, Jet Ski & Pontoon Rentals
Boat, Jet Ski & Pontoon Rentals in the Brainerd Lakes Area
No matter where you are in the Brainerd Lakes Area, you'll find everything you need to complete your Brainerd MN summer vacation. Whether you spend months planning your MN vacation, or you've decided at the last minute to spend the weekend on the lake, there's a rental for you. For a family day on a MN lake, try a pontoon rental or rent jet skis for the entire family! Relaxing solo? Rent a fishing boat and while you're it at, rent fishing equipment or even book an experienced fishing guide.
If you're thinking about the Brainerd Lakes area, but you're not sure if boating is how you want to spend your day, then check out other available recreational rentals from RV rentals to inline skate rentals. Many of the MN resorts will rent to non-guests and allow you a unique view of some of the greatest resort properties in the Brainerd Lakes area.
Boat Rentals and Jetski Rentals
Rent a boat, pontoon, jetski and other recreational watercraft so you can enjoy the Brainerd Lakes Area from the water.
Lodging Facilities that Will Rent Boats & Jet Skis to the Public:
Brainerd Area, Brainerd Southwest Area, Hackensack & Backus Area, Merrifield Area, Mille Lacs/Aitkin Area, Nisswa Area, Pequot Lakes Area, Pine River Area
Recreational Vehicle (RV) Rentals
Rent an RV for your Brainerd vacation. RV camping is a fun way to explore the Brainerd Lakes Area.
Bike Rentals
With hundreds of miles of bike trails and mountain bike trails, renting a bicycle is a great way to explore the Brainerd outdoors.
Inline Skate Rentals
With so many paved trails in the Brainerd Lakes Area, renting inline skates will give you a great opportunity to enjoy the outdoors and see the area from a new perspective.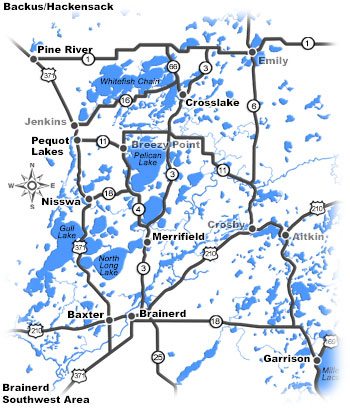 Lodging Facilities that Will Rent Boats & Jetskis to the Public
Recreational Vehicle Rentals - RV Rentals
Since 1951, Hilltop Camper and RV has provided quality sales, service and the superior customer service that you would…
PleasureLand RV is your premier RV dealership in Minnesota. We specialize in quality new and used RVs from some of…
PleasureLand RV is your premier RV dealership in Minnesota. We specialize in quality new and used RVs from some of…
If you're searching for sportswear and sports equipment, look no further than Martin's Sport Shop…
Dave's Sportland Bait, Fun Rentals & Storage offers jet Skis, ski boats, pontoons, depth finders,…