The Grand Opening/Dedication ceremonies for the new Highway 371 Bypass took place Wednesday August 9, 2000. After the ceremony those in attendance were invited to be one of the first to drive this $13.5 million expansion of Highway 371. The new four-lane divided highway extends from the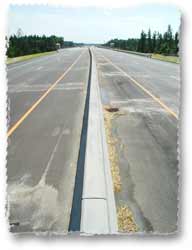 Crow Wing State Park entrance to Highway 210 in Baxter, for a distance of nearly seven miles.
Both Minnesota Transportation Commissioner Elwyn Tinklenberg and U.S. Representative James Oberstar were on hand, along with area business leaders and elected officials to celebrate this momentous occasion.
Convenient bike trail crossing as well. The new highway bypass is expected to moderate the flow of traffic throughout the core region of the Brainerd / Baxter corridor. Less congestion at stoplights in Brainerd / Baxter means more time on the lakes and on the course. Continue to drive carefully on the way to your ultimate vacation destination, but do take a minute to marvel in modern technology.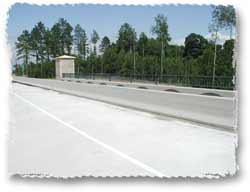 Here are other details about the bypass:
The project was expected to be completed by fall 2000 and everything is right on schedule. We love our state highway workers!
The cost of the bypass was projected to cost $13.5 million.
The Highway 371 North and Highway 210 intersection will be shifted about 150 feet to the west to allow for a straighter path to the bypass.
There will be three stop lights added on the bypass -- one at College Drive, one at County State Aid Highway 48 and one on the bypass close to the intersection with Highway 371 running south to Little Falls. Stop lights on Highway 371 at the intersections of Highway 210 and Excelsior road will be moved with the shift....