Owner Craig Goldberg on Lake Shore Classic Boats
Lake Shore Classic Boats
August 30, 2006
Mary LaPorte
Craig Goldberg could tell you just by the sound of a engine whether or not it's an antique wooden boat. Craig owns and operates Lake Shore Classic Boats in Lakeshore, MN. His business is restoring classic antique boats.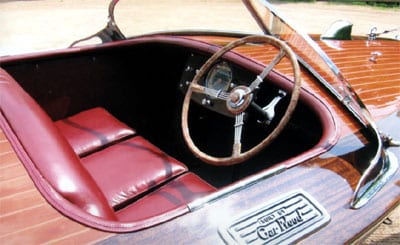 Craig can bring back a boat to mint condition from a rotted frame. He also refinishes, rebuilds and recreates every part of a wooden boat to its original condition. All you have to do is see one of the boats he has restored and you'll realize it isn't an easy task. Craig is humble about his talent however, and says he owes it all to Harold.
Harold Thompson worked for a well known local establishment performing maintenance on wooden boats 30+ years ago. As the years past by his work evolved into restoring the boats he previously maintained.
He became well known and respected for his skill of making old new again. Craig was hired to work at the same shop as their "parts guy". He helped around the store from time to time doing odd jobs. When the business slowed in the winter months Harold would put Craig to work.
Harold took Craig under his wing and passed on everything he knew about restoring boats. Craig says, "If it wasn't for Harold, I wouldn't have anything". So in a way Craig's work is Harold's, and that in turn means fine craftsmanship and skill.
Now with his own business Craig has taken that skill and put it to good use. By restoring the wooden boats Craig is refreshing the memories of many that have forgotten what it's like to be in a wooden boat.
The feeling of being in a well made and restored wooden boat is one that Craig knows well. Whether it's the sound of the engine, water running under the wooden planks or the smell of varnish, memories come to mind.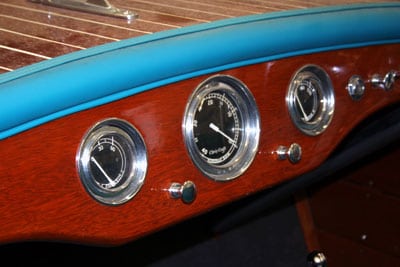 Antique wooden boats hold a special meaning to many in the Brainerd Lakes Area. Generations who were young decades ago may think of the mail boat. For younger generations wooden boats spark feelings of romance and class. They symbolize status, money and the finer things in life.
Regardless of your age or status – nearly everyone loves to see a 1918 32 foot Launch built in New York City on the Harlem River. If you want to take a look yourself Craig says to stop in. "The best part of the business is the people you meet along the way".
Lake Shore Classic Boats
Craig Goldberg
Phone:
218-963-1122
Directions:
Take 371 N 10 miles to County 77.
Take a Left on 77 by Holiday Gas Station.
Go approx. 4 miles.
Large Blue commercial building on right.
There is no sign.
If you go by Lake Shore City Hall and the big curve in the road, you went to far.