A Visit to the MN School of Diving
Minnesota School of Diving
August 14 , 2006
Mary LaPorte
Bill Matthies opened a scuba store on Washington Street in 1959. His wife Evelyn painted colored divers that swam all over the white paneling. The store was small and business was slow, but that didn't last for long. In 1960 he started teaching how to dive and his business took off from there. Bill is a devoted family man with a love for the water and the world that lies beneath.
In 1966 the Professional Association of Diving Instructors – PADI was created. This is an organization geared to instructors and divers to maintain a level of professionalism and safety. It is the largest certifying agency in the world today. MN School of Diving, currently located right on Hwy 210 in Brainerd, certifies individuals under PADI.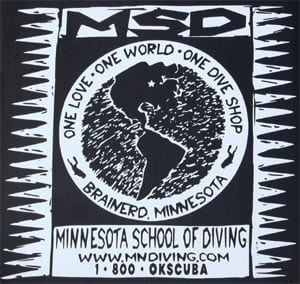 Bill had already been teaching for 7 years when PADI got going. Bill is PADI instructor #79 in the world. There only 6 others in front of him that are still alive or active. Now your number would be about 200,000 or more. So needless to say Bill and his crew know what they are doing.
I met with him to get the details on who can dive and how. You could tell that this was Bill's passion right from the start. His eyes gleam when he talks about how complex yet simple diving is. We talked about how the body reacts in the water – decompression, and the finds that he has picked up over the years.
We sat in two chairs sitting directly in front of a television with video playing of underwater dives. His son Todd, who Underwater photo of a label with Japanese writing.is co-owner, films underwater with intricate equipment on many of their dives. The pictures were amazing to say the least. The video kept catching my attention when it would scan over the Cuyuna Mine Pits. Stairs that seemed to be caught in time and mines that are still in tact plunging deep into the earth. The video gave you a feeling of what it might be like under the water. Slow, easygoing and beautiful. Everything on its own clock, nothing too fast other than the fish whizzing by the camera in a flash.
Even for me this type of sport seems out of reach. I don't know anything about diving, gear or where to learn. Bill explained that it's OK to know nothing, and it's never too late to start learning about it.
They offer Discover Scuba classes for only $25.00 a person to anyone willing right in Brainerd, MN. Come to the MN School of Diving located right on 210, and then they will go over some skills and the gear. After that you are off to the Brainerd High School pool to try it out first hand. It's geared toward working adults – so many of the dives and classes are held in the evening and on weekends.
Bill mentioned that there are only two things that can happen during Discover Scuba, you either get hooked on it or you decide it's not for you. Either way you don't loose much - 25 dollars is hardly enough to fill your gas tank these days. If you decide to continue on and get certified you can apply the 25 dollars to your lessons. After you are certified you can go to the Fun Dives that are held twice a week.
To the left of where we were sitting was a tall cabinet covered with a piece of glass. Inside were bottles, guns and a skull…I wasn't sure of what. One of the bottles has the writing "Braino"…it was an old pop that was manufactured right here in Brainerd. Many artifacts dating back to the early 1900s, a revolver with a star and a badge printed on the stock and old keys that look like they belonged in a movie set.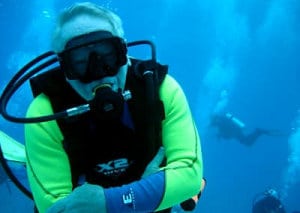 Two steps into the store drops you thousands of miles south. Todd re-decorated the entire place to look like a southern retreat. The center island, that is the register, is a Tiki Bar with a bamboo roof. The front of his office is paneled with a deck covered with hot chili lights…makes you want to pull up a chair with a martini in your hand. Todd made signs with the names of tropical locations and with a compass pointed each one in the right direction.
Among the festive atmosphere is scuba gear. Everything you need to dive can be found here. They will fill tanks, test them and maintain them for you as well. If that isn't enough they run one of the only Commercial Diving courses in the nation on site. People who need training in underwater welding for commercial purposes come to Brainerd for a intense 7 week course. They have a water tank, specialized helmets, gear and tools for the commercial divers. It's one of the shortest and most intense training programs in the nation.
There are classrooms, offices, vans and a bus, compressors, gear, tanks, videos galore, and even Evelyn Matthies Art Gallery all right there. It would be worth it to just showing up to see what it looks like in the inside and to meet the staff.
If you do come to the store ask for the Store Manager Lori Mattson. She has been with MN School of Diving for years and dives herself. She runs the store with Todd and even does their website. She is a PADI instructor, Emergency First Response Instructor, certified NITROC diver and Gas Blender, SCUBAPRO repair technician and a DAN O2 instructor.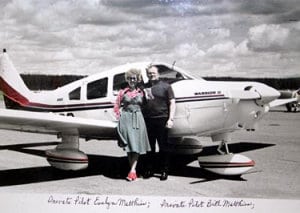 You also may run into Todd who has been diving for 30 years. Todd is an OWSI Instructor, PADI IDC Staff Instructor, Emergency First Response Instructor, and Master Scuba Diver Trainer. Todd has up to 12 specialty instructor ratings in all. Not only does he run the store and teach, he also coordinates trips to exotic locations around the globe to see shipwrecks, exotic species and more.
If you decide to stop in, take the Discover Scuba class or get certified you will definitely be in good hands. They take their job very seriously and you don't have to worry about anything. If fear is a factor in not trying scuba, put that aside, you might surprise yourself. It's a once in a lifetime experience and it's worth giving it a shot.
Mary LaPorte
Minnesota School of Diving
712 Washington Street
Brainerd, MN 56401
218-829-5953
800-OK-SCUBA