Chainsaw Art
June 19, 2006
Mary LaPorte
On my quest to find Brainerd's best kept secrets I visited AJ Lutter at his gallery "Come See What I Saw" right off of Highway 371. Coming to this area isn't just to relax and enjoy good weather, it's also a great time to take day trips to the places you can only find in the north woods. Interesting people and shops are scattered everywhere in the lakes area. The only catch is most of them are hidden and take some investigation to find.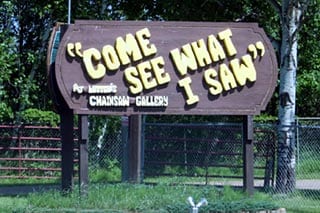 So I called AJ and set up a time for me to stop by. I arrived at the Chainsaw Gallery on an 85 degree day and was not looking forward to being inside, but little did I know, nothing that AJ does takes place inside. AJ carves statues with chainsaws of figures, animals and people out of trees. He orders semi loads of 60 inch + logs that are dropped on-site and then carves them for custom order or for the gallery.
I was there to take a tour so AJ brought me right to his outside workshop. It is enclosed only by a hanging roof and the floors are covered in saw dust. Power cords and gas cans are placed around multiple chainsaws and log chunks. AJ put a piece of wood onto a table and secured it into place at the bottom. He then disappeared for a few minutes. When he returned he had on safety glasses, a red hat and ear protection.
After choosing one of many chainsaws he fired it up and started cutting the piece of wood. I thought ok, this is neat, I'll be able to see him start a piece. Only 5 minutes later I realized that I wouldn't be waiting long. The smell of gasoline and sound of a chainsaw filled the open area. Wood chunks were flying off the table as he moved around the log swiftly. The chainsaw was twisting in every direction and sawdust was pouring off of the statue that was forming right in front of my eyes. First there were little ears, and a nose, then came the feet and a mouth. Only minutes later there was an entire body of a bear with arms, fur, toes and a nose. While I was watching the bear take form it was hard to remember that this was wood, not clay. It came together so fast and so detailed that it looked like he was working with play dough or some other easily formed material. After he had finished I couldn't help but walk up and double check that it was really wood.
After the carving is roughed out it sits for 2 – 3 months to dry out. Then it is sanded down and either varnished, painted or burned. Once in a while, if you're lucky, you'll be able to catch AJ standing outside his shop with a large blow torch burning a bear or eagle to get a blackened effect. Other times you'll find him chainsawing his newest creation, burning in the eyes of a statue, varnishing, painting or doing the finishing touches on a piece with carving tools.
The whole place is set up for his work and trade. To the right of the shop and gallery there is a red barn nicely kept with flowers and clean windows,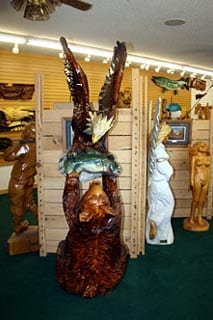 looks like something out of a picture book or painting. In front of the barn is a yellow 1951 ford with the license plate that says "DIRTBAG". AJ's friend explained that AJ went into the DMV to see if "51FORD", "YELLOW51" or any other name was available that had a reference to his classic car. The woman behind the counter said no, all of those were taken by one guy…AJ responded "That dirt bag . . . is that available". Apparently it was, so hence the 51 Ford was named.
So you might wonder, how does someone get into this? Well, 35 years ago AJ was at the MN State Fair and there was a man doing chainsaw demonstrations. He was memorized with it and said his mouth hung open the whole time the carving was taking place. Awhile later AJ tried to carve out a wolf head and ended up burning out his clutch on his chainsaw. He gave up on that first project, but still has both the unfinished wolf head and clutch hanging in his home.
Years later he went to the Viking Wood Carving Show and there was a man who spent the time to teach him how to carve. After that AJ was hooked and started doing the carvings at home. Once he was comfortable with what he was doing he started traveling to state fairs and it took off from there.
Now AJ has sold a piece in every state. Many people call him to come to their home and carve a bear out of a downed tree that is still standing in the ground. They top off the tree and then AJ carves out a custom bear, statue or person. Some are as high as 6 – 8 feet tall. Others have requested custom staircases, tables or stools. You name it he can carve it.
Half of the fun is just showing up at his shop and looking around. Meeting AJ and seeing his shop is a great way to spend the afternoon. The kids will love visiting with him, he even has a grandson who has a few pieces for sale himself.
This is an experience all in itself; a great side trip, and definitely a destination you'll want to schedule in for your next visit to the area. Call AJ or stop in to see the art. His hours vary, so a phone call or just popping in will do the trick.
AJ Lutter
Come See What I Saw
16396 Hwy 371
Baxter, MN 56425
218-829-3844