Festival of Adventures and the Mud River Music Fest
Updated September 3, 2009
Laura Hasse
Original Article Posted
September 5, 2007
Laura Hasse
Have you ever thought it would be fun to go back in time to experience life as our ancestors did? The Festival of Adventures in Aitkin, MN is a celebration of years that brings the past back to life. It is your chance to glimpse the ethnic heritage and lifestyles that existed in this area from the 1890s back through the 1790s.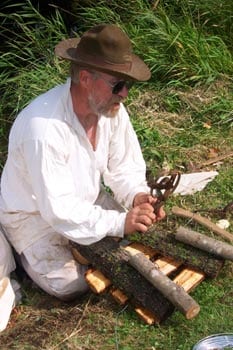 This event "lets people know how the community started and shows that we still have a value in our history," explains Sue Marxen, Executive Director of the Aitkin Chamber of Commerce. She went on to say that Aitkin was a logging and riverboat town and was one of the first communities in the area.
The 19th Annual Festival of Adventures and Mud River Music Fest is held September 19 – 20, 2009 in Aitkin, MN. The festival is a Chamber event, made possible with the help of over 300 volunteers, that enables history to come to us through music, history interpreters and demonstrations of the trade skills that were prevalent 200 years ago. The Grand Casino Mille Lacs, Ken Keller Foundation, and many local businesses help make the festival possible.
Each year, area schools are invited to bring their 3rd, 5th, and 7th Graders to experience the Festival of Adventures on Friday, prior to the festival being open to the public. In one year, over 780 school kids are guided through history by 80 volunteers. These students learn through interaction with history interpreters how life was different when this community was beginning.
The Festival of Adventures is held along the Ripple River, formerly known as the Mud River, in the Aitkin city park. Festival-goers cross a walk bridge to access the festival area and are greeted with live folk music performances, a lumber camp, Fur Trade era Rendezvous camp, and a pioneer camp. Craft and logging demonstrations, hawk (tomahawk) throwing, blanket trades, wagon rides, and pony rides are among the activities that take people back in time. The 2009 event lineup includes famous cartoonist Duane Barnhart! Mr. Barnhart will be providing quill & ink cartoon demonstrations.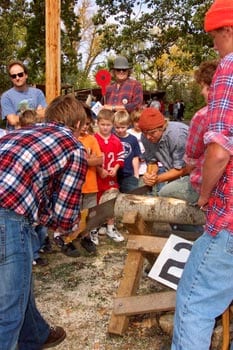 The Mud River Music Fest includes musical and dance performances consistent with the historical era and local heritage. Stage performances, pow wow demonstrations and dances will be held.
Admission to the Festival is only $5 in advance and $7 at the gate. Weekend admission buttons are available at 15 local businesses throughout Aitkin. Ages 15 & under are admitted at no fee over the weekend.
If you are interested in finding out more about the Festival of Adventures and Mud River Music Fest, including volunteer and sponsorship opportunities, please contact Sue at 218-927-2316 or upnorth@aitkin.com.
Event Details
September 19 – 20, 2009
10:00 am – 5:00 pm on Saturday
10:00 am – 3:00 pm on Sunday
Aitkin City Park, Aitkin, MN
Festival of Adventures 2006
(Photos are provided courtesy of Jeanne Schram and the Independent Age.)