Ideals Best Kept Secret
June 8, 2006
Mary LaPorte
You could easily drive right past Ideal Golf on Highway 16, and never know you've driven past a treasure chest. This isn't your typical pro shop full of new shiny clubs and bags still wrapped in plastic. Granted there are clubs, plenty of brand new ones, and golf bags ready to be used for the first time. But the main difference is the rooms stocked full of golf collectables, memorabilia, and golf antiques. There are framed pictures from the 1920s of young eager golfers and clubs propped up to just about anything you can imagine. The walls are covered with old beer and liquor signs with pictures of Golfers in their checkered hats, baggy knickers and brown striped shoes.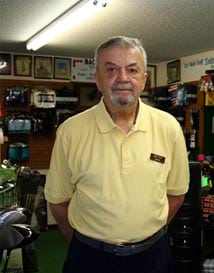 The first room that you walk into has all the new gadgets that every golfer needs. You can find name brand clubs, bags, tees, gloves and grips. Pretty much anything you need to play golf. Upon first walking in, you'll notice someone looking at you. A 6 foot tall statue of a golfer named Joseph sits in a back room and is surrounded by memories. In the room you'll find a museum of golf antiques with the sounds of oldies music in the background and the smell of cigars. The walls are literally wanes coated with 600 plus antique clubs, and the shelves are piled high with everything you remember as a kid.
Jerry Johnson, the owner and artist, is in love with golf and everything that has to do with it. It is his life. He grew up in East Saint Paul and went to Johnson High School graduating in 1957. A cities transplant who says he will never go back, he loves his life and his golf.
Jerry took me on a tour of his store, but it's more like a walk back into time. It is hard to take everything in and it is very easy to get lost staring at the old art, figurines and pictures on the walls. You could spend hours in this place and not even realize it.
Jerry first took me back to a hallway with stairs going deep into a dark basement. Lining the walls of the stairway were photos of famous golfers he had met throughout the years. Names like Curtis Strange, Arnold Palmer, Chi Chi Rodriguez, Jack Nickolus, Orville Moody, Sam Snead and Payne Stewart. All men whom Jerry has met himself. Each photograph is signed and tells a story.
A short walk away is the memorabilia room. The walls are covered with bright colored paintings of old photographs on the walls. Most dating from the 1920s – 1950s of golfers and all hand painted by Jerry himself, with ink and pen. They capture your imagination and you can't help but wonder who the golfers in the pictures are.
The pictures are from many places and golfers you would recognize. Standing in many of the photographs are groups of men holding their clubs, with their hats on and button up shirts tucked in. In one picture, behind a group of men, there is a red box full of sand with some water. I learned that before they had wooden tees they would fill these boxes with sand. There was a reservoir of water connected to each tee box and the golfers would create 2 inch sand mounds to tee off from. After staring at the box in the picture Jerry got my attention back and pointed to the other side of the room. The box that was in the picture was right there in front of me. The white numbers that were painted on the front matched those in the pictures and the steel plate was identical. You can buy nearly everything in this room including the black and white pictures dating back to the early 1900s that are meticulously hand painted.
Going further into the store I found myself in a hallway covered with old comic book covers of cartoons characters holding clubs, golfing, or running around a course. Jerry explained that there are only 245 golfing covers out there and he has 215. He blows up the prints of the covers and hand paints them in with ink. This job takes him anywhere from 4 to 12 hours for each one. Many of the comics I remember myself, but some were dated to the year 1900. That particular one is from the comic book Diamond Dick Junior – The Boys Best Weekly, 1900. He also has Mutt and Jeff 1925, Wendy, Bugs Bunny, Heckle & Jeckle, Pop Eye, Uncle Wiggily and Mickey Mouse just to name a few. I got close to look at the ink lines that Jerry had drawn and it was done to perfection. Every cover is painted in and shaded just right. The art makes the prints come alive.
If you think that's all, you are seriously mistaken. Jerry also custom fits and repairs clubs, has over 500 golfing animal figurines, and even has celebrities dropping in now and again. His back room has been taken over with club shafts, his drawing desk, paper, ink, and tools. In the middle of the room is a green parakeet chatting away in the sunlight. The set up is interesting to say the least, and the atmosphere is an experience all in itself.
Right as I was leaving the store Jerry smiled and chuckled saying, "There are two things I want to do in life, I want to live to be old, but never grow up."
Ideal Golf is on Highway 16 in Ideal Corners. If you are in the area, at a resort, or just touring around this is definitely worth your time. It is one of those places that you will remember long after your trip is over.
Jerry Johnson
Ideal Golf
9569 Co. Road 16
Ideal Corners, MN
218-543-4320
800-950-4828