Shelly Summer
Brainerd Lakes Vacationland Blog
Brainerd MN Drought and Fall Colors: Will We Still See the Leaves Change?
Yes!! Due to the dramatic drought conditions across MN, the leaves are already changing colors in the Brainerd Lakes Area! We're not seeing large clusters of colors just yet, but some of the vibrant reds and yellows that we love to see on the trees in the fall have been popping up.
According to the MN DNR, the best time for viewing the fall foliage colors would be late September to early October. Drought conditions can often see the fall color changes happening earlier than usual.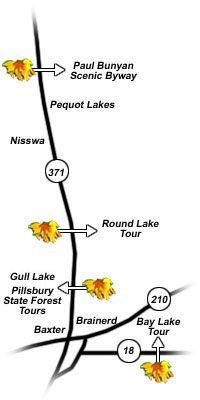 Take a drive alone or with family along popular Brainerd Lakes Area routes that explode with the vibrant Fall Colors of orange, red and yellow. Many of the Fall Color Tours pass lakes, parks and other outdoor activities where you can enjoy nature. For photographers, Fall in the Brainerd Lakes Area is the perfect time to capture colorful scenes and unique birds and wildlife.
Click on a Tour for a map and details about the area.
Fall foliage in the Brainerd Lakes Area will take your breath away. A number of tours are highlighted and mapped out for you here; there are many more scenic routes around the Brainerd Lakes area as well. You can basically use Brainerd as a starting point, head in any direction and experience a beautiful fall drive.
If you enjoy outdoor activities, you may consider biking for a more intimate view of Minnesota fall color displays. Brainerd bike trails often include paths that wind you through some beautifully wooded areas offering fall foliage tours from a fresh perspective. Many Brainerd resorts, hotels and campgrounds are either located along or offer great access to the bike trails.