Brainerd Lakes Area Women's Expo 2015
2nd Annual Brainerd Lakes Area Women's Expo at Cragun's Resort Sports Centre
April 27, 2015
Shelly Summer
A women's expo wouldn't normally be the type of thing to get my interest, but after attending the 2nd Annual Women's Expo at the Craguns Resort Sports Centre on April 25th, I might be hooked. I had never attended a women's expo before, or a women's event of any kind, and I wasn't sure what to expect, but I was still surprised. I couldn't have picked a better one for my first either! The Craguns Sports Centre offered a beautiful space with plenty of room for all the vendors and the foot traffic. It was a day of firsts!
My Women's Expo Highlights
Who doesn't love to spin a prize wheel?!?! Caribbean Beach Tanning Salon of Baxter, knew how to get attention to their booth, offering a prize drawing and a chance to spin the wheel for an immediate reward.
After seeing a few failed shots at the prize, I took my turn and gave the wheel a little love tap. I won!! Thank you Caribbean Beach Tanning Salon for my beautiful bottle of Tan Extender Lotion! I have no tan to extend yet, but it sure smells great.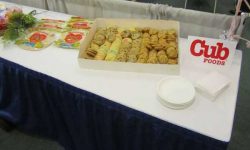 Cub Foods of Brainerd/Baxter was on hand to add to the sensory pleasures with a table spread of meats, cheeses, pita bread chips, dips, and some delicious roll -ups made with Laughing Cow Swiss.
In the spirit of things, I tried a little of everything, and it was all delicious. A much needed pick me up snack for a busy day!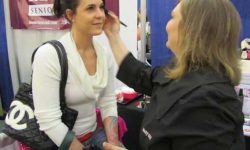 Of course, getting a makeover would be a highlight in any girl's day!! This was my first time getting a makeup application and I have to say, I wasn't great at it. Relaxing is not my thing and I kept on getting up even though she wasn't done! Oh well... I did get to have a beautiful face for the remainder of the expo, and day! Thanks Heather!
Contact Baxter Mary Kay Consultant Heather Kasper-Maine to get your own makeover!
Lower Level of Black Ridge Bank
14084 Baxter Drive Suite 7
Baxter, MN 56425
www.MaryKay.com/hkaspermaine
218-820-6845
I do have friends who are ladies, so of course I have heard the Scentsy buzz, but the display of new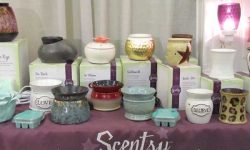 element burners shown at the Women's Expo really tipped me in the Scentsy direction.
With two 12 year old boys in the house, I need all the help I can get keeping it smelling fresh and my new Scentsy burner has already gone a long way to help.
I went with the Birch Bark log heating element burner without the light, and the Blonde Wood and Moonbeam scent and I'm so glad that I gave Scentsy a shot!
Learn more about Scentsy:
Pete Lowe
Scentsy Independent Star Director
petelowe.scentsy.us
218-831-4210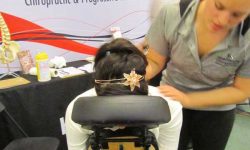 After experiencing all of these "firsts" today, I couldn't pass up the opportunity to receive
a free chair massage from Health Source in Baxter.
I have to admit, it wasn't that bad...
Not only did I get a few kinks worked out, but I also got to take advantage of a great Women's Expo only special and now I'm all lined up for a full reading and adjustment.
Who knew that the road to better health was paved with Women's Social Events?
To get your own adjustment visit www.healthsourceofbaxter.com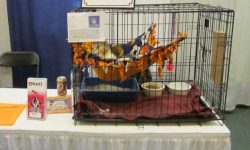 This is Lady, she's a rescue cat that is waiting to be adopted from the Heartland Animal Rescue Team (HART) of Brainerd. With such a sweet face, I was almost tempted to bring her home myself, but I am one of many renters with a "no pets" lease. Lady was very playful and happy to be visiting with so many beautiful Brainerd Lakes Women, and hopefully the expo will help her to find a great home.
For more information on adopting Lady and other HART animals, or to see how you can help this animal mission, contact HART:
15494 Dellwood Drive, Baxter, MN 56401
218-829-4141
www.hartpets.org
Let's not forget about the shopping!! With 50+ vendors on hand, and many doing on-site sales, there were plenty of opportunities to say no, but a few times, I had to say yes! From a beautiful rose gold headband, or two, to my Scentsy burner, I made some great choices and got some great deals. It was such a fun, intimate shopping experience with tons of "oohing," "aahing," and sharing with the vendors and nearby ladies. A shopping experience to remember!
[Best_Wordpress_Gallery id="11" gal_title="Womens Expo 2015"]
2015 Lakes Area Women's Expo Exhibitors
Alphay International, Inc.
Beautiful by Teri Ann Permanent Cosmetics
Beautycounter
Brainerd Dispatch
Brainerd Lakes Midwifery, LLC / A New Story Birth Center
Brainerd MS Walk-National MS Society
Brenny Funeral Chapel
Cascade Women's Wellness Centre & Medspa
Caribbean Beach Tanning Salon
College of St. Scholastica
Coria Designs
Costco Wholesale
Cragun's Resort
Cub Foods
Daisy Blue Naturals
Discovery Horse
Destiny Cruises LLC
Edward Jones Investments
Essentia Health
Geyer Wedding and Event Rentals
Girl Scouts of MN & WI Lakes and Pines
Good Samaritan Society
Great River Eye Clinic
HealthSource of Baxter
Heartland Animal Rescue Team
Hedlund Chiropractic
Home Instead Senior Care
Isagenix
It Works!
Jamberry Nails
Jeunesse Global
Lakewood Health System
Laughing Yoga with Tami Lu
Lone Oak Chiropractic & Wellness Center
Mary Kay
Minneapolis Heart Institute-Baxter
MN Organization on Fetal Alcohol Syndrome
MONAT Global
NeriumAD
Norwex
Nystrom & Associates, Ltd.
Origami Owl Custom Jewelry
Outdoor Lady Clothing
Party World
Prudential
Pure Romance by Jody
Tiffany Johnson Psychic-Medium-Author
Scentsy
Sculpture by Design Inc.
SEACRET Spa Products
Sheets Galore
Stella & Dot
St. Francis of the Lakes Catholic School
STUDIO Professional Photography
Susan G. Koman Minnesota
The Pampered Chef
Thirty-One Gifts
Thrivent Financial
Tupperware
Vintage Designs
VIP Fashion Club
ViVi Jewelry
Wellness With Wendy
Young Living Essential Oils
Younique/Lashtastique
Your Home Improvement Company