Brainerd Blue Thunder Baseball
Brainerd Blue Thunder Baseball
Updated May 12, 2008
Laura Hasse
Original Article Posted
July 16, 2007
Laura Hasse
It's the bottom of the 4th inning. The Blue Thunder are down by 3 runs, and they're up to bat. They need to rally now. The batter, carrying the weight of this knowledge on his shoulders, steps up to the plate. He tightens his grip and stares down the pitcher. The pitcher winds up and throws a fastball. CRACK! The batter connects with the ball, sending it high in the air. The crowd watches in anticipation as the ball travels through the air. The ball flies over the outfield fence and the crowd erupts into cheer—it's a homerun.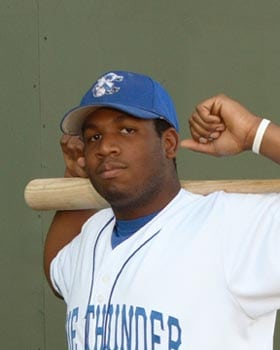 This play was the turning point in the Blue Thunder baseball game this past Saturday night. The Blue Thunder gained momentum from this play, came from behind, and won the game! I've attended two Brainerd Blue Thunder games this season and truly enjoyed the experience both times. I've been impressed with how well run the evening is—good baseball, entertaining games between innings, energy in the crowd! The players sign autographs and visit with the fans as they're exiting the game. Some evenings even include fireworks after the game.
The Blue Thunder strive to be a team that the Brainerd Area is proud to cheer on. The team is "hard-working and competitive." The Blue Thunder is a dedicated team that continually strives to improve, on and off the field: they put in extra hours of Outfield ready for actiontraining; they show up a couple hours early for batting practice; and they volunteer throughout the community. Many area kids look up to these players, and enjoy playing catch with them and rooting for their hometown team.
The Brainerd Blue Thunder baseball team is comprised 24 players with NCAA eligibility who aspire to move on to Major League Baseball. In fact, some of the players have already been drafted into the Minor Leagues. The Blue Thunder belong to the Northwoods Baseball League, which is comprised of 14 teams and divided into the North Division and the South Division. Players for each team are scouted and recruited. They are not paid for playing, which allows them to maintain their NCAA eligibility. The Blue Thunder players and interns live with host families in the Brainerd community. Some of these families have been hosting for 9-12 years.
Blue Thunder Baseball games are affordable family fun! Grandstand tickets are available for $6 (adults)  and $4 (children 12 & under). Group rates, season tickets and bonus books are also available. Additionally, tickets for the party deck (includes food and beverage) may be purchased for $20 (adults) and $12 (under 21).
The regular season runs from May 29 – August 11, 2008. Playoff games and the Championship Series extend into mid-August. Games are played almost every evening. For more information about attending Blue Thunder games or hosting players you may contact Pam Marrr by phone 828-2825.