GLAPA – Performing Arts Theatre Season Lineup 2013
GLAPA Theatre Performances
Updated October 24, 2013
Laura Hasse
Original Article Posted
February 6, 2008
Laura Hasse
Greater Lakes Area Performing Arts
Did you know the Lakes Area has a group dedicated to enriching the local culture through their support of the performing arts? The Greater Lakes Area Performing Arts, or GLAPA, formed in 1983 with the intent to bring Arts to the Lakes Area at a reasonable price. Since its inception, GLAPA has established a reputation of providing well-received, quality performances. The 2013-2014 Season lineup is sure to bring another year of stellar theater to the Brainerd Lakes Area.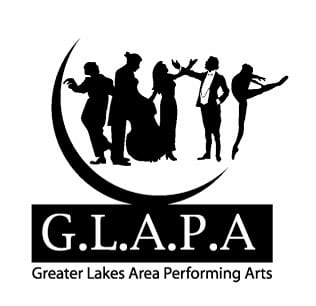 GLAPA sets performances for each season, helping to find the talent, boost season ticket sales, and raise funds to underwrite programs. The GLAPA board is comprised of community-based, volunteer members. Performances are held at the Pequot Lakes High School Theater, to which GLAPA contributes support for upkeep and improvements.
Working closely with the Pequot Lakes Community Theater, GLAPA offers theater performances as part of its entertainment repertoire. PLCT productions now comprise three (3) of the performances offered each year, typically offering a summer show, a fall musical, and a winter, non-musical performance. The summer production typically coincides with the Pequot Lakes Bean Hole Days event. Each theatrical production is scheduled for six (6) presentations.
In addition to the PLCT productions, four (4) other performances are offered annually. Talents may include musical groups, comedy acts, vocalists, dancers, and magicians. Recent acts have included Willow Brae and the George Maurer Group. Each of these concert performances is held for only one night.
Getting Involved
GLAPA welcomes everyone, regardless of the level of experience, to become involved with their organization. A number of ways exist for you to support their goal:
Attend a Performance; ask a friend to join you.
Make a donation, monetary or in-kind welcome.
Purchase a season pass.
Help with event promotion.
Use your performing arts talents and become part of the show!
Contact the Community Education Office at 218-568-9200 or visit www.glapa.info to find out more about how you may get involved with GLAPA.
2013-2014 Season Line-up
Oliver – November 15, 16, 17, 22, 23 & 24, 2013
Mary Mack, folk humorist – January 18, 2014
Divas through the Decades – February 15, 2014
The Spitfire Grill – March 21, 22, 23, 28, 29, 30, 2014
Michael Johnson, musician – April 12, 2014
View more details about these performances on the Brainerd.com Events Calendar.
Season Ticket Passes
Season tickets include passes to six (6) exciting performance events! (The summer performance is not included.) For more information regarding Season Ticket availability, contact Pequot Lakes Community Theatre at 218-568.9200 or visit www.glapa.info.
Check out the Brainerd.com Events Calendar for GLAPA performances and more great events in the Lakes Area.