Spider Lake Cross Country Skiing Trail Map
To view a larger map download the PDF Here.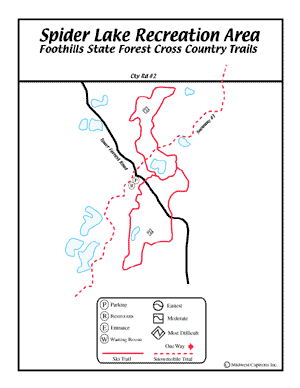 Expert - 26km
Location:
From Brainerd Chamber go west on Hwy. 210 to the junction of 210 and 371. Go north on Hwy 371 for 30 miles to Pine River, turn left on Cass County Hwy. 2 and go 12 miles. Turn left into parking lot at the Spider Lake Ski Trail sign.
Spider Lake Ski Trail consists of two loops. The north loop is a total of 5.9 Km, the south loop is 6.1 Km. Both loops are rated as most difficult as the terrain is very hilly.