Mille Lacs Kathio State Park Cross Country Ski Trail Map
To view a larger map download the PDF Here.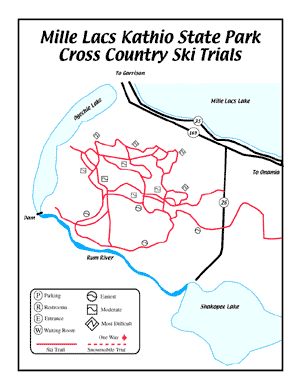 Beginner to Expert - 29km
Location:
From the Brainerd Chamber, travel south on Hwy. 371 to the second set of stoplights. You will turn left on Oak St. by the YMCA. Oak St. eventually turns into Hwy. 18 as you travel east to the edge of Brainerd. Keep on Hwy. 18 to Garrison, then turn south on Hwy. 169 for 14 miles. Go south on Mille Lacs County Rd. 26 for about 1/8 of a mile to the park office. There are signs along on Hwy 169 at County Rd. 26 turn-off directing people to the park.