Northland Arboretum Cross Country Ski Trail Map
To view a larger map download the PDF Here.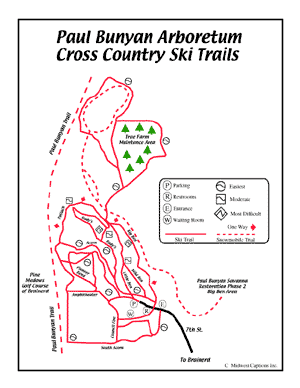 The Arboretum trails are rated beginner to moderate. The 12K of trails are expertly maintained and groomed by the Brainerd Nordic Ski Club. When the snow flies and the trails are able to be groomed the Arboretum lights 5 k from 4:30 pm to 10pm. Many are groomed for dual use while others are designated for either skating or classic.
Location:
The Arboretum is located within Brainerd/Baxter city limits, on 14250 Conservation Drive
Behind the Westgate Mall
Phone # 218-829-8770