Minnesota Fall Colors in the Brainerd Lakes Area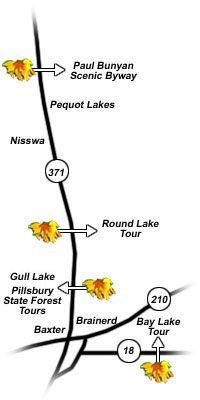 Fall colors in Minnesota are on vibrant display each autumn in the Brainerd Lakes Area. You can smell it; you can feel it; and you can definitely see it--it's fall! The season brings such a pleasing bombardment to the senses that Minnesota fall color tours have become a great tradition. The Brainerd Lakes Area is no exception: nature's scarlet sumac and maple, golden oak and glowing yellow birch paint a portrait of such richness, it can't be missed.
Fall foliage in the Brainerd Lakes Area will take your breath away. A number of tours are highlighted and mapped out for you here; there are many more scenic routes around the Brainerd Lakes area as well. You can basically use Brainerd as a starting point, head in any direction and experience a beautiful fall drive.
If you enjoy outdoor activities, you may consider biking for a more intimate view of Minnesota fall color displays. Area bike trails often include paths that wind you through some beautifully wooded areas offering fall foliage tours from a fresh perspective. Many Brainerd resorts, hotels and campgrounds are either located along or offer great access to the bike trails.
The Brainerd Lakes area has many attractions, lookouts and eating facilities along any one of these routes, whether traveling by car or bike, allowing you to stop and enjoy all that our area has to offer.
Typically, the peak fall colors in the Brainerd Area are experienced late September to early October; however fall colors and their peak color displays change each year according to location, precipitation and temperature variances