Brainerd Lakes Vacationland Business Directory
Brainerd Wedding Bakeries
Your wedding day will be one of the most special days of your life! Your wedding will be beautiful! The wedding cake is a special part of any wedding celebration. It is the centerpiece of your reception. Why not have a cake as beautiful as your wedding day?
Cake decorating has evolved as an art form. There are endless options available--cake shapes, flavors, fillings, frostings, tiers--to make your cake as personalized as you wish. Your cake decorator should be willing to help offer suggestions and show you examples of the work he or she has done.
Remember, too, that you're not boxed in--you may choose something new and different. Today anything goes from pies to chocolate chip cookies! Candy tables are gaining popularity. Cakes are being used centerpieces on guest tables. Cupcakes are a great option for easily serving large crowds.
There are many great bakers in the Brainerd lakes area. Visit with your baker about their specialties and use their individual talents to make your day even more special.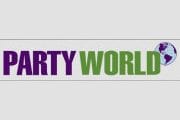 Let Party World help you with any or all of the rental - or retail - services you may need to have t...
Order a smaller, but beautiful wedding cake for everyone to see. Then have a small cake as a center piece for each table just big enough to serve one piece of cake to each person seated at the table or order sheet cakes to serve. Have the Bride and Groom travel from table to table serving their guests. This eliminates the cost of providing both cake and center pieces for the tables.
Make sure all flowers added to the cake are edible, even if you are just using the flowers as decoration. Many flowers are poisonous so beware! If using live flowers make sure the Baker and the Florist communicate.