Brainerd Public Library Location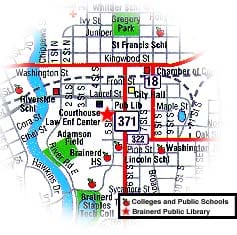 The Brainerd Public Library is located in the center of Brainerd within walking distance of the downtown.
Directions to Branch:
Intersection of Highway 210 to 4th Street.
Turn on 4th Street.
Go two blocks to the stop sign.
Turn left on Laurel Street.
Go one block.
Turn right on 5th Street.
Go two blocks.
The library will be on your right side.
Brainerd Public Library
416 South Fifth Street
Brainerd, MN 56401
Phone: 218-829-5574
Fax: 218-829-0055