Brainerd Public Library - Kitchigami Regional Library System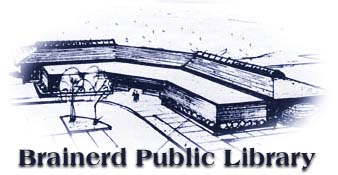 Some things you can expect from your library:
Free Wi-Fi and public computers
Friendly and knowledgeable staff
Family story times
Meeting room facilities (rental fees apply)
Master Gardeners presentations monthly
Welcome to Brainerd.com's information site about the Brainerd Public Library
The Brainerd Public Library, right in downtown Brainerd, MN, is a great place to get away, grab a book or get on the internet.
It is full of books for all ages. There is an entire kids section to the right as you walk in and many other tools to help you find what you are looking for.
Brief History:
The Brainerd Public Library was established in 1904 and was a founding member of the Kitchigami Regional Library system in 1969. Originally housed in a Carnegie library, the current building was constructed in 1986.
Thanks for visiting the Brainerd Public Library!
Hours:
Mon 9:00 a.m. - 7:30 p.m.
Tue 9:00 a.m. - 7:30 p.m.
Wed 9:00 a.m. - 7:30 p.m.
Thu 9:00 a.m. - 7:30 p.m.
Fri 9:00 a.m. - 6:00 p.m.
Sat 9:00 a.m. - 4:00 p.m.
Staff:
Jenny Hill - Branch Manager
Location:
416 South Fifth Street
Brainerd, MN 56401
Phone: 218-829-5574
Fax: 218-829-0055
Email: brainerd@krls.org