Brainerd Lakes Vacationland Business Directory
Brainerd Lakes Area Hockey Arenas & Equipment
Hockey in the Minnesota Brainerd Lakes area as well as the state of Minnesota is a popular Winter sport. There are so many ways to enjoy hockey in the Brainerd Lakes Area.
The new Essentia Health Sports Center (formerly the Brainerd Civic Center) hosts the Brainerd Amateur Hockey Association and offers hockey for many age groups, camps, and support for local students interested in playing hockey.
Breezy Point, MN is home to the Breezy Point Hockey Center and the Breezy Point North Stars Junior Hockey league.
Brainerd Lakes Area Hockey Camps:
Breezy Point Hockey Camp
Heartland Hockey Camp - Deerwood, MN
MN Hockey Camps - Nisswa, MN
Star Tribune Hockey Results for Brainerd Lakes Area Public Schools:
MN Boys Hockey Results
MN Girls Hockey Results
Brainerd is famous as the prime Minnesota Vacation and Resort location and offers many recreation options.
---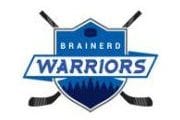 The Brainerd Amateur Hockey Association (BAHA) is committed to providing a safe environment for yout...
The Breezy Point Hockey Center hosts tournaments, summer camps, figure skating, and more.