Doris Stengel Poetry - Brainerd, MN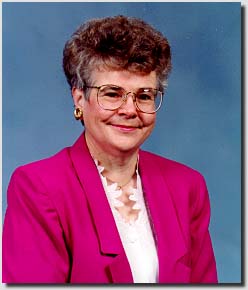 Doris Lueth Stengel grew up in Hurdsfield and Fessenden, North Dakota and began writing poetry as a child having several poems published in The Dakota Farmer.
She attended Concordia College, Moorhead, MN, where she won her first poetry prize, later graduated from the University of North Dakota with degrees in English and education.
Doris is a prize winner in League of Minnesota Poets (LOMP) competition and has been published in Dakota Horizons magazine. In 1995 she participated in a select writers' workshop led by editors of Lutheran publications and currently she edits the Northeastern Minnesota Synod supplement in The Lutheran magazine.
As a teacher, Doris has taught in public schools, in an alternative education center and Search and Bethel Bible studies at Bethlehem Lutheran Church. she is also in demand as a speaker at women's retreats and conventions.
Other horizon expanding experiences include a variety of roles on stage at Brainerd Community College Theatre and the continuing challenge of perfecting her bowling and bridge game.
Doris and her husband Casey have lived in Brainerd, Minnesota since 1963. The have three children, Randal, Shawn and Wendy Jo and four grandchildren, Matthew, Phillip, Delaney and Kyle.