Safari North Wildlife Park
Return to Directory
Safari North Wildlife Park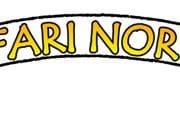 Come Experience Animals from 6 Continents at Award Winning Safari North Wildlife Park
More than 150 Species Plus Expedition Safari, a Train Ride through 10 Acres, Amusement Rides and One of the Few Places in the Midwest to See Cheetahs!
Brainerd, MN (March 14, 2022) —Award-winning Safari North Wildlife Park, set to open May 7, 2022, features more than 150 species from six continents, and gives guests an up-close look at species specific to the African Safari while riding a locomotive train through its newest exhibit titled: Expedition Safari. Animals featured include lions, hyenas, monkeys, zebras, wildebeest, ostrich, Eland, buffalo and more! Safari North is also one of few zoos in the Midwest with cheetahs (2 males and 1 female). Cheetahs are the fastest land animal in the world reaching speeds of up to 70 mph.
Founded in 2014, Safari North Wildlife Park is the creation of Kevin Vogel and his wife Kelly. Together the two have more than 50 years of combined experience in the field of exotic animals. Prior to opening the park, the couple spent 20 years traveling the Midwest with their petting zoos, camel rides, pony rides, pig races, and wildlife educational shows. Safari Wildlife Park has been named #1 for Best Summer Family Fun in the Brainerd Lakes Area by the Brainerd Dispatch for 2018, 2019 and 2021. Also named #1 Spot for Relaxation in 2019.
The mission of Safari North Wildlife Park is to promote life-long learning, conservation and preservation through safe, affordable, and memorable experiences with animals of all types. The park specializes in up close and personal experiences with the animals as well as important information about every animal including its history, care and the conservation needed to keep it thriving.
"Our dedication to our animals is second to none and we are very proud of the care they receive," says Kevin Vogel, Owner. "We see families come back year after year because of the experience we provide them and the animals. We love spreading our vast knowledge of these animals so we can all appreciate their place and importance in our ecosystem."
Safari North features Animals from North America, Asia, Africa, South America, Europe and Australia. Guests can also feed the giraffes, ride camels and mine for gemstones! Here is just a sampling of other species at the park: Black and Grizzly Bears, Sloth Bears, Tigers, Kangaroos, Leopards, Cougars, Cheetahs, Bobcats, Alligators (more than 30), Lynx, Lemurs, Monkeys (Spider, Howler, Olive baboon, Java, Vervet, Ringtail Lemurs, Ruff Lemur Capuchins, Mandrills, Patas), Otters, Zebras, Porcupines, Wart Hogs, Hyenas and Barnyard Petting Zoo animals.
Safari North Wildlife Park is located at 8493 State Highway 371, Brainerd, MN 56401. The 2022 season starts May 7 and runs through October 2. For information on tickets and hours, go to: www.safarinorth.com