Brainerd Lakes Vacationland Business Directory
MN Vacations start with finding the perfect Family Resort, Hotel, or Cabin in Brainerd. Whether you're looking for a low key housekeeping cabin, or a luxury resort with all the amenities, you'll find something for everyone in the Brainerd Lakes Area. Many of the area lodging options are even pet-friendly, so you don't have to leave anyone behind on your next family vacation!
For the traveling family, or large group, many of the Brainerd MN resorts offer unique Reunions Homes and group activities. Corporate Groups and Retreat are also welcomed and encouraged at Resorts and Hotels in the Brainerd Lakes Area that feature spacious conference and meeting rooms, and reception areas. Need to host a kid's birthday party? Try a local Hotel Waterpark for an exciting activity and party space in one!
Surrounded by woods and lakes, Brainerd is also known for its beautiful RV Parks and Campgrounds. From primitive tent camping sites in the woods, to RV Resorts that offer hookups and amenities, the options are endless for a summer camping vacation in Minnesota. The fun doesn't end in the summer either! Try a Four Season Winter Resort for a holiday or snowmobiling vacation.
A visit is nice, but stay for a bit with a Brainerd Lakes Rental Home or Extended Stay Lodging option.
Safari North Wildlife Park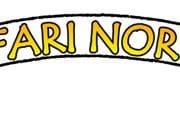 Safari North Wildlife Park

Contact Us for Your FREE Business Listing Today

Home » Brainerd Business Directory
Safari North Wildlife Park

 Social Distance with Animals at Safari North Wildlife Park!
Award-Winning Brainerd Park Opens for Drive-Thru Starting Thursday, May 21
Founded in 2014, Safari North Wildlife Park is the creation of Kevin Vogel and his wife Kelly. Together the two have more than 50 years of combined experience in the field of exotic animals. Prior to opening the park, the couple spent 20 years traveling the Midwest with their petting zoos, camel rides, pony rides, pig races, and wildlife educational shows.
While the Vogels maintained a love of their animals, they grew tired of traveling and decided to find a permanent home. Since opening six years ago, Safari Wildlife Park has been named #1 for Best Summer Family Fun in the Brainerd Lakes Area by the Brainerd Dispatch.
Starting on Thursday, May 21, Safari North Wildlife Park will be open for drive-thru visits to see the animals. Admission will be at a reduced rate and though guests will not be able to see all of the animals they will still see a large variety while enjoying a unique offering during a time when many families are looking for safe ways to get out of the house.
"This is not what we wanted but it is what we have to do at this time," said Kevin and Kelly Vogel in an announcement to their followers on Facebook. "We greatly and most humbly appreciate our guests and hope that you can come out to support us and our family of animals."
"As a special bonus we are building an additional road which will allow guests to view our NEW African Lions and Jaguar exhibits which were not to be opened until next season," Kevin adds.
All guests will receive a coupon for 50% off a visit when the park is open entirely. At that time season passes and gift shop items will be an additional 10% off.
The mission of Safari North Wildlife Park is to promote life-long learning, conservation and preservation through safe, affordable, and memorable experiences with animals of all types. The park specializes in up close and personal experiences with the animals as well as important information about every animal including its history, care and the conservation needed to keep it thriving.
"Our dedication to our animals is second to none and we are very proud of the care they receive," says Kevin Vogel, Owner. "We see families come back year after year because of the experience we provide them and the animals. We love spreading our vast knowledge of these animals so we can all appreciate their place and importance in our ecosystem."
WHERE: Safari North Wildlife Park
8493 State Highway 371, Brainerd, MN 56401
WHEN: 2021 Season: May 9 - September 27
Hours: 9:00 am - 6:00 pm, daily
TICKETS: $10.00 + tax per Adult
$7.00 + tax per Child (Ages 2 - 12)
MORE INFO: www.safarinorth.com
For media inquiries including Zoom, Skype or when possible, in-studio opportunities with the animals, please contact: Kelly Plummer, 651-206-9852 or kellyp@newsworthycommunications.com
">www.safarinorth.com