Grand View Lodge – Conference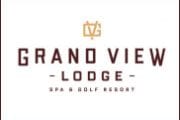 40,000 Sq. Ft. Meeting Space. At Grand View Lodge, we believe success is in the details. Breathtaking surroundings. Outstanding service. Facilities and technology that exceed your expectations. Convenience. Ease. Flow.
Creating a memorable special event or conference requires a dedication to getting the details right. It starts with selecting a venue that not only suits your group's needs, but one that will provide a unique, individual experience for every participant. Whether you are planning a wedding, family reunion, corporate meeting, conference, or special celebration—Grand View Lodge offers an incredible experience for your group event.