Freddy's Sports Grill – Grand View Lodge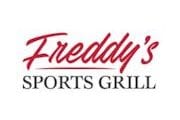 Freddy's Sports Grill at Grand View Lodge is your spot for fun, food and sports. Our newly renovated restaurant features 8 big screen TVs, bar games and an incredible view. Whether you're just getting off of the course or just stopping by to watch a game, drop by for a frosty beverage and some fantastic food. The menu features mouthwatering wings, juicy burgers, and tasty sandwiches with a full bar to wash it down. Located at The Pines Golf Course at Grand View Lodge and open daily.
Join us at the best sports bar North of Gull Lake. Call up your buddies and grab a round of golf or just a cold beer. Either way, Freddy's Sports Grill is calling your name.