Paul Bunyan's "Tall Tale"
Paul Bunyan, The Giant Lumberjack
---
Paul and Babe The Blue Ox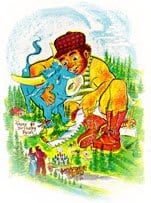 Paul Bunyan and Babe the Blue Ox As a child, Paul played with an axe and crosscut saw like other children played with toys. On his first birthday his father gave him a pet blue ox named Babe.
Babe grew to be seven axe handles and a plug of tobacco wide between the eyes and as a snack would eat thirty bales of hay...wire and all.
Paul and Babe were so large, the tracks they made gallivanting around Minnesota filled up and made the 10,000 lakes.
---
Courtesy of Bang Printing
Drawings by Homer Dimmick