Paul Bunyan's "Tall Tale"
Paul Bunyan, The Giant Lumberjack
---
Ole, The Blacksmith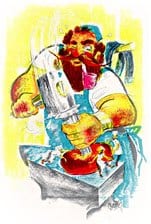 Ole, the blacksmith, was the only man who could shoe Babe, the Blue Ox. Every time he made shoes for Babe they had to open a new iron mine. One time he carried a pair of Babe's shoes and their weight made him sink knee deep into the hard earth with every step.
In his spare time Ole punched the holes in the donuts for the cook.
---
Courtesy of Bang Printing
Drawings by Homer Dimmick