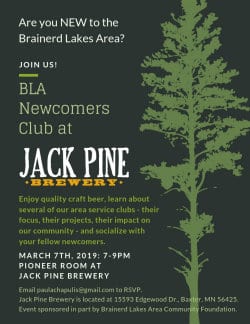 BLA Newcomers Club at Jack Pine Brewery
Our next big event is March 7th from 7-9pm at Jack Pine Brewery. Enjoy quality craft beer, learn about several of our area service clubs - their focus, their projects, their impact on our community - and socialize with your fellow newcomers. Thank you to Brainerd Lakes Area Community Foundation for sponsoring a portion of the evening!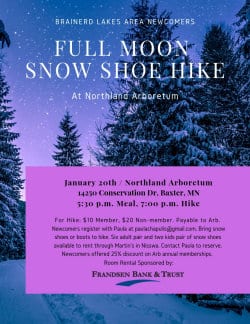 BLA Newcomers Club Full Moon Snowshoe Hike
Join us at 5:30pm on January 20th for a meal, followed by a Full Moon Snow Shoe Hike at 7pm. If you want to join for the meal and not the hike, feel free to do so! (Maybe you can bring a game or two along.) Please RSVP with Paula by January 16th.

For more info on the Arboretum: https://northlandarb.org/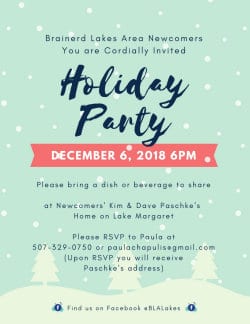 BLA Newcomers Club December Holiday Party
Join us for a casual evening of fun and friendship! Brainerd Lakes Area Newcomers are cordially invited to a Holiday Party on December 6th at 6pm at the home of Kim & Dave Paschke on Lake Margaret. Please bring a dish or beverage to share.
RSVP to Paula at 507-329-0750 or paulachapulis@gmail.com
Upon RSVP you will receive the Paschke's address.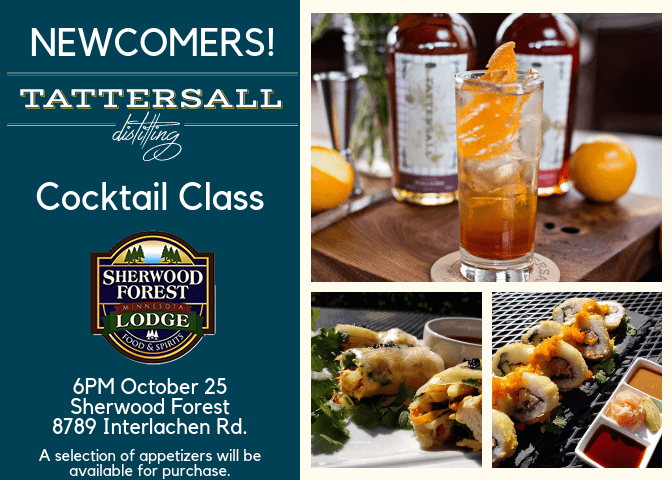 Tattersall Distilling Cocktail Class
Join other newcomers for food and bingo at The Woods
19624 COUNTY ROAD 3 BRAINERD, MN 56401
The Woods: 218-829-7507
FOOD SPECIALS: $5 BINGO BURGERS $2 FRIES & $3 DOMESTIC TAP BEER. 1/2 PRICE APPETIZERS FOR NEWCOMERS
Please RSVP with Paula at paulachapulis@gmail.com. Questions? Call Paula at 507-329-0750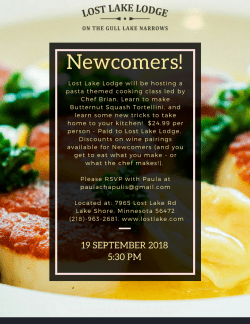 Pasta Themed Cooking Class at Lost Lake Lodge
Our next event will be at Lost Lake Lodge on September 19th at 5:30 p.m. Chef Brian will be teaching us how to make butternut squash tortellini (and you get to eat!).
There is a charge for this event - $24.99 per person - paid to Lost Lake Lodge on the evening of the event. PLEASE RSVP with Paula by September 14th. You can email Paula or you can call/text her at 507-329-0750.
Lost Lake Lodge is located at 7965 Lost Lake Road in Lake Shore, MN (behind Zorba's on Gull Lake).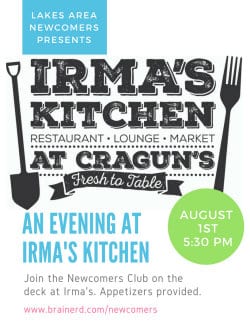 BLA Newcomers Club Appetizers at Irma's
Our next event is Wednesday, August 1st at 5:30 p.m. at Irma's Kitchen, located at Cragun's Resort - 11000 Cragun's Drive. Join us for appetizers provided by Irma's Kitchen and a short overview of Cragun's provided by Eric Peterson. If you think you'd like to stay for dinner, let me know so we can give Irma's Kitchen advance notice.

Learn about Irma's…
Irma's Kitchen, Gull Lake's freshest restaurant is open 7 days a week at 5:00 pm, during the summer and fall season. Located in the former home of the Hungry Gull Restaurant the building dates back to 1926. All food items are made in house using many of Irma's recipes and the freshest local ingredients. The name Irma's Kitchen was chosen to acknowledge the important role that Irma Cragun played in the food service at Cragun's Resort over the year. Irma's Kitchen's menu is designed to showcase local products and ingredients. The restaurant also incorporates a bar/lounge area and a large deck overlooking Gull Lake. Come by boat or car – dock parking is available.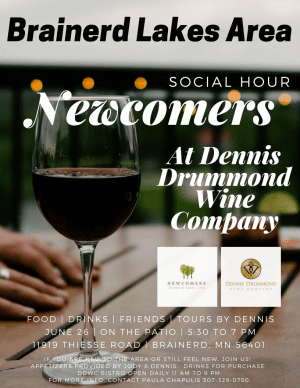 Newcomers Social Hour at the Dennis Drummond Wine Co.
We are excited to announce a Brainerd Lakes Area Newcomers' Social Hour at the Dennis Drummond Wine Company on Tuesday, June 26th at 5:30 pm. Meet us on the patio. If you can't make it until later, join us when you can.

DDWC is located at 11919 Thiesse Road, Brainerd, MN 56401. Jody and Dennis Drummond opened their beautiful winery and event center in 2017. They are providing light appetizers for us. Wine, beer, and spirits will be available for purchase. Their Bistro is open daily 11 am to 9 pm. Learn more about them at www.ddwco.com.