Brainerd Lakes Area Newcomer's Club Events
Let's do an Outdoor Adventure
When: Friday September 17, starting at 6:00
Where: Let's start at Fritz Loven Park and for those who would like, you can stop for live music at Roundhouse Brewery on the way home. They are celebrating October Fest.
How: We will meet at the picnic shelter at Fritz Loven Park for group introductions. We will follow this with a walk through the park along Stony Brook. Feel free to bring your own snack or a picnic to munch on during introduction time. As I said above Roundhouse is celebrating October Fest that weekend, so those who would like could stop in for live music afterwards.
I have included a little description of Fritz Loven Park and directions I found on the Visit Brainerd Site:
For those who love nature, including tall trees, a babbling brook and wildlife, Fritz Loven Park in Lake Shore is a must-see. Whether you're looking for solitude or a great place for a family picnic, this 80-acre park offers something for everyone, including scenic Stony Brook, a picnic pavilion with electrical outlets, a playground, restrooms, and trails for hiking, snowshoeing and cross-country skiing.
To find Fritz Loven Park: From Highway 371 in Nisswa, go west on County Road 77 into Lake Shore to Cass County Road 78 at Bar Harbor. Go right on Cass County Road 78 and then right on Ridge Road. Ridge Road will take you right into the parking lot of Fritz Loven Park.
Music at Roundhouse Brewery
Good Evening everyone,
I'd like to introduce myself. I am Kim Paschke and I will be following in Paula's footsteps, organizing events for Newcomers. My husband and I moved to Lakeshore 3 years ago and love everything the area has to offer. I am very excited to be working with Newcomers.
I'm sure it is no surprise to everyone that all area businesses are very busy at the end of June and beginning of July. I have been able to organize a get together for next Thursday, July 22nd at Roundhouse Brewery, to get together and listen to music. Everyone now has my email address. Please, let me know if you would like to have anything done differently.
Spring Gathering at Kim & Dave Paschke's (Lake Margaret)
Hi Newcomers!
You are invited to a Spring Gathering at Kim & Dave Paschke's (Lake Margaret) on Thursday, May 13th at 6pm. We'll be outside on the deck or patio. I know we are all looking forward to toasting a beverage, laughter, and some good food.
It's BYOB and a dish to share.
Upon RSVP, I'll email you directions to Kim and Dave's (they are the wonderful couple that has hosted our holiday and summer parties!).
See you then!
Paula
Get A Behind the Scenes Tour of Mount Ski Gull
Dear Newcomer,
Get a behind the scenes tour of Mount Ski Gull, ride the chairlift to the top of the hill, and/or the tubing hill, see where snow is made and learn about the inner workings of a non-profit ski hill, in a 30min tour. Then if you choose you can go skiing/snowboarding or tubing after at a discounted rate.
Gather at 5:15 pm on Friday, Feb 26th at 5:15pm
Tour starts at 5:30 pm
Ski/Tube 6-8 pm
Tubing from 6pm-8pm $15/person
Lift Ticket $17.99 Rental $21.99
Food available for purchase
Three bonfires available for warmth
RSVP with me via email as soon as you can as we have a max of 25. Masks are required during the tour and whenever you get in line for the lifts or food. You'll have to sign a waiver before we go. Once you are confirmed with me, go ahead and sign the waiver at Mount Ski Gull's website:
https://www.mountskigull.com/ Click on "Waiver" tab. Fill out both waivers if you intend to use both lifts.
Looking forward to a fun evening outside together!
March 26, 2020
6:00PM - 8:00PM
Restaurant Night at Main Street Ale House in Nisswa
Gather for dinner and friendship. Main Street Ale House is located in Nisswa at 25559 Main Street (right by the post office).
You can see their menu and prices at www.mainstreetnisswa.com. Co-Owner (and Newcomer! Mike Foy) is offering 20% off appetizers for us that evening.
RSVP BY 3/23 TO ME AT PAULACHAPULIS@GMAIL.COM
Looking forward to seeing you all there!
Paula
February 22, 2020
9:30AM - 11:30AM
Saturday, February 22nd, 9:30-11:30 am
This is an unofficial event, but several Newcomers are attending this so I wanted to get the word out.
Flyer attached.
$10 per person if you are an Arb member. $20 for non-member.
Includes instruction and guided snow shoeing.
Call the Arb to register.
February 8, 2020
9:00AM - 11:00AM
February 3, 2020
5:30PM - 7:30PM
Meets the first Monday of every month at 5:30 pm
Next meeting, February 3
Small Meeting Room at the Brainerd Library
Book: The Keeper of Lost Things by Ruth Hogan
*Please let me know if you are interested and I'll add you to a separate email list.
January 11, 2020
4:00PM - 7:00PM
January Newcomers Club Event
Hi Newcomer!
What a fun night we had at our Holiday Party. Thanks again to Kim and Dave for hosting!
Coming up….
Curl with the Club at the Brainerd Lakes Area Curling Club – Saturday, January 11th from 4-7pm.
Rental of the Club is sponsored by Cuyuna Regional Medical Center (https://www.cuyunamed.org/). Todd Bymark from CRMC is also a Curling Club member and will be with us that evening as a host and instructor. There will be additional instructors from the Curling Club. We'll be on the ice for about two hours then we'll gather for dinner.
We'll have Wings & Pork/Chicken Tacos by Pit Happens (https://www.pithappenscatering.com/menu), and Wine/Beer tasting by Cashwise Liquor (https://www.cashwise.com/CWstore7036).
Cost: $15/person (please bring cash or check made to Brainerd Community Action).
If you don't want to get on the ice, please still come and enjoy the food/beverages and watch the newbies on ice (there's a great viewing area – and it's warm!).
Open Curl starts at 7pm so you are welcome to stay if you really get into curling!
PLEASE RSVP to me by January 4th. The Curling Club is located at the Crow Wing County Fairgrounds: 2000 SE 13th St, Brainerd.
December 13, 2019
6:00PM - 10:00PM
Hi Newcomer,
Looking forward to seeing those of you that can make it tonight at 6pm at Roundhouse! We have 24 people signed up. There will be a food vendor (Chameleon Café – known for great tacos) and I'll be bringing some snacks and Kim Paschke is bringing a pan of bars. See you then!
Also – the Holiday Season is almost upon us. With that is our Holiday Party scheduled for December 13th at 6pm at Kim & Dave Pashke's house on Lake Margaret. Thanks to Kim and Dave for opening their home to us again!!
Please bring a dish or beverage to share. Once I receive your YES RSVP, I'll send you directions.
November 15, 2019
6:00PM - 10:00PM
November Newcomers Club Event at Roundhouse
Brainerd Lakes Area Newcomers Club
Friday, November 15th, 2019, at 6pm
Roundhouse Brewery
1551 Northern Pacific Rd, Brainerd, MN 56401
(Within the NP Center)
Food: Chameleon Café will be a food vendor for the night (for purchase) and I'll bring some snacks for the tables too.
Seating: We'll have reserved seating so be sure to RSVP!
MUSIC: Katie Ziegler, local singer/songwriter, acoustic-style music will be performing 7-9pm.
October 27, 2019
5:00PM - 7:00PM
Newcomers Oct. Event: Pickle Ball at the YMCA
Hi Newcomer,
Our fellow Newcomer, Shane Riffle, CEO of the Brainerd YMCA, has so generously offered to host October's event:
Curious About Pickle Ball?
Come to the YMCA for socializing, light refreshments, a tour and update from Shane on the Y's latest and greatest, and lessons on how to play Pickle Ball. Bring the whole family!
AND – anyone who attends will receive one month free membership (for new members only). If you're not curious about Pickle Ball, still come for the socializing and tour from Shane.
OCTOBER 27TH, 5-7 P.M.
BRAINERD LAKES YMCA
602 OAK STREET, BRAINERD
Please RSVP to paulachapulis@gmail.com by Friday, October 25th, 2019.
SAVE THE DATE FOR NOVEMBER's NEWCOMERS EVENT AT ROUNDHOUSE BREWERY – November 15th, 2019, 6-9pm.
Looking forward to it!
Paula
September 7, 2019
10:00AM
Newcomers Sept. Event: Downtown Brainerd History Walk
The Brainerd Lakes Area Newcomers Club invites you to the Downtown Brainerd History Walk on Saturday, September 7 from 10:00am-11am. The History Walk starts and ends at Coco Moon located at 601 Laurel Street - Downtown Brainerd.
The History Walk will be led by Carl Faust, a local historian.
Please RSVP to Paula at paulachapulis@gmail.com
Newcomers July Event: Lake's Area Music Festival France Nouvelle
Hi Newcomer,
Our wonderful Lakes Area Music Festival has put together a private reception for you!!
We will be gathering on Wednesday, August 7th, at 6:15pm at LAMF's offices at 715 Laurel in downtown Brainerd.
Mingle with a few of the world-class musicians who come here from around the United States and throughout the world. Enjoy some wine and light appetizers, and then we'll head over to reserved seating at Tornstrom Auditorium for a France Nouvelle Concert at 7:30 PM. Tickets are not required for this concert (there is a chance to donate in donation boxes after the concert), but you must RSVP with me by July 25th if you plan to attend the reception and concert. The seats fill up quickly and we want to be sure to be kind to LAMF, so please RSVP.
For those of you not familiar with the Lakes Area Music Festival (it's quite a gem in our community!), you can find more information here:
Newcomers July Event: Summer Party at the Paschke's
Join the Brainerd Lakes Area Newcomers Club at the Summer Party at the Paschke's on beautiful Lake Margaret.
We'll start with a meal, followed by a pontoon boat ride of the chain of lakes (weather permitting).
Bring a drink for you, and a dish to share!
RSVP: paulachapulis@gmail.com
June 26, 2019
7:00PM-9:00PM
Newcomers June Event: Sweet Tooth Sunset Cruise
Join in for a Sweet Tooth Sunset Cruise on beautiful Gull Lake - June 26th from 7-9pm.
Sit back, relax, and enjoy the evening call of the loon, while capturing stunning sunset colors. Enjoy a complimentary evening coffee and indulge in delicious desserts while visiting with other newcomers. Bring a light sweater or jacket as the evenings on the water can be chilly.
PLEASE register by June 22nd.
To Register
1. Go to: https://gulllakecruises.com/cruise-calendar/
2. Choose June 26th Sweet Tooth Sunset Cruise
3. Fill in order form (Type "Newcomers" in the comments).
Adults: $34.75, Kids: $24.75
Please also RSVP to Paula at paulachapulis@gmail.com
Gull Lake Cruises is now a part of Cragun's and departs from there.
*If we have inclement weather and the captain calls off the cruise, you will receive a refund or can choose to use the funds toward another of their cruises.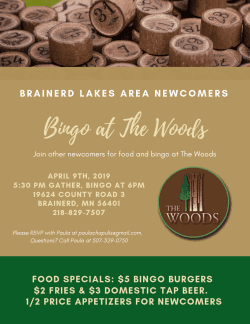 April 9, 2019
5:30PM
Bingo Starts at
6:00PM
BLA Newcomers Club: Bingo at the Woods
Join other newcomers for food and bingo at The Woods
19624 COUNTY ROAD 3 BRAINERD, MN 56401
The Woods: 218-829-7507
FOOD SPECIALS: $5 BINGO BURGERS $2 FRIES & $3 DOMESTIC TAP BEER. 1/2 PRICE APPETIZERS FOR NEWCOMERS
Please RSVP with Paula at paulachapulis@gmail.com. Questions? Call Paula at 507-329-0750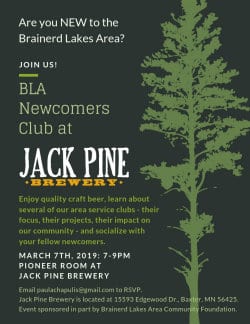 BLA Newcomers Club at Jack Pine Brewery
Our next big event is March 7th from 7-9pm at Jack Pine Brewery. Enjoy quality craft beer, learn about several of our area service clubs - their focus, their projects, their impact on our community - and socialize with your fellow newcomers. Thank you to Brainerd Lakes Area Community Foundation for sponsoring a portion of the evening!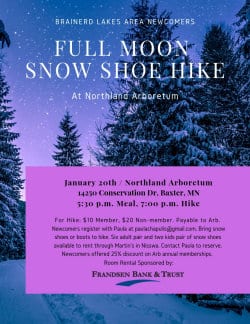 BLA Newcomers Club Full Moon Snowshoe Hike
Join us at 5:30pm on January 20th for a meal, followed by a Full Moon Snow Shoe Hike at 7pm. If you want to join for the meal and not the hike, feel free to do so! (Maybe you can bring a game or two along.) Please RSVP with Paula by January 16th.

For more info on the Arboretum: https://northlandarb.org/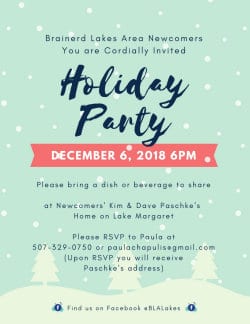 BLA Newcomers Club December Holiday Party
Join us for a casual evening of fun and friendship! Brainerd Lakes Area Newcomers are cordially invited to a Holiday Party on December 6th at 6pm at the home of Kim & Dave Paschke on Lake Margaret. Please bring a dish or beverage to share.
RSVP to Paula at 507-329-0750 or paulachapulis@gmail.com
Upon RSVP you will receive the Paschke's address.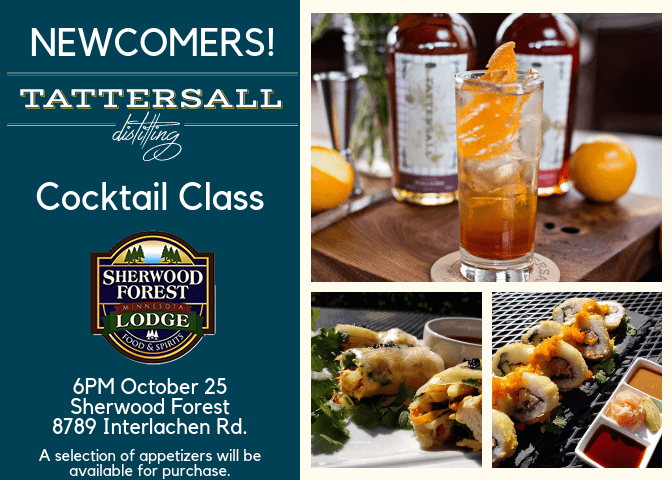 Tattersall Distilling Cocktail Class
Join other newcomers for food and bingo at The Woods
19624 COUNTY ROAD 3 BRAINERD, MN 56401
The Woods: 218-829-7507
FOOD SPECIALS: $5 BINGO BURGERS $2 FRIES & $3 DOMESTIC TAP BEER. 1/2 PRICE APPETIZERS FOR NEWCOMERS
Please RSVP with Paula at paulachapulis@gmail.com. Questions? Call Paula at 507-329-0750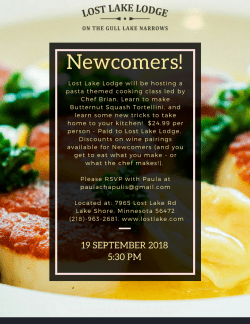 Pasta Themed Cooking Class at Lost Lake Lodge
Our next event will be at Lost Lake Lodge on September 19th at 5:30 p.m. Chef Brian will be teaching us how to make butternut squash tortellini (and you get to eat!).
There is a charge for this event - $24.99 per person - paid to Lost Lake Lodge on the evening of the event. PLEASE RSVP with Paula by September 14th. You can email Paula or you can call/text her at 507-329-0750.
Lost Lake Lodge is located at 7965 Lost Lake Road in Lake Shore, MN (behind Zorba's on Gull Lake).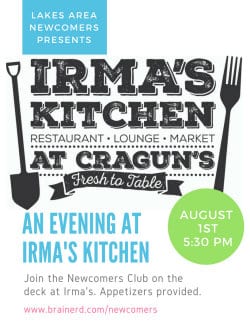 BLA Newcomers Club Appetizers at Irma's
Our next event is Wednesday, August 1st at 5:30 p.m. at Irma's Kitchen, located at Cragun's Resort - 11000 Cragun's Drive. Join us for appetizers provided by Irma's Kitchen and a short overview of Cragun's provided by Eric Peterson. If you think you'd like to stay for dinner, let me know so we can give Irma's Kitchen advance notice.

Learn about Irma's…
Irma's Kitchen, Gull Lake's freshest restaurant is open 7 days a week at 5:00 pm, during the summer and fall season. Located in the former home of the Hungry Gull Restaurant the building dates back to 1926. All food items are made in house using many of Irma's recipes and the freshest local ingredients. The name Irma's Kitchen was chosen to acknowledge the important role that Irma Cragun played in the food service at Cragun's Resort over the year. Irma's Kitchen's menu is designed to showcase local products and ingredients. The restaurant also incorporates a bar/lounge area and a large deck overlooking Gull Lake. Come by boat or car – dock parking is available.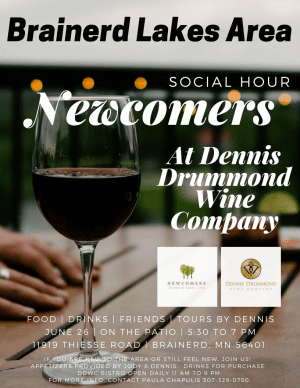 Newcomers Social Hour at the Dennis Drummond Wine Co.
We are excited to announce a Brainerd Lakes Area Newcomers' Social Hour at the Dennis Drummond Wine Company on Tuesday, June 26th at 5:30 pm. Meet us on the patio. If you can't make it until later, join us when you can.

DDWC is located at 11919 Thiesse Road, Brainerd, MN 56401. Jody and Dennis Drummond opened their beautiful winery and event center in 2017. They are providing light appetizers for us. Wine, beer, and spirits will be available for purchase. Their Bistro is open daily 11 am to 9 pm. Learn more about them at www.ddwco.com.