Brainerd Bound Book: Landmarks to the Lakes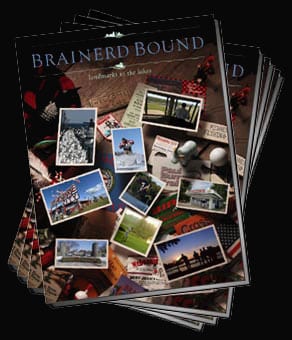 Co-Authors Mark Rustad and Mark Utter, along with Photographer Curtis Johnson, had the idea to build a picture book designed to capture the landmarks along the highways linking the Twin Cities to the Brainerd Lakes region of central Minnesota.
The goal was to build a book of photography that portrayed a variety of stop-off points en route to the lake country. They calculated that hundreds of thousands of vehicles make annual vacation treks to the north along these captive roads that include US Highways 10, 169 and State Highways 25 and 371.
The decision to build a picture book around these shared landmarks en route to the lakes was reached: They would build a picture book around the trip, capture story lines of human interest, and reveal what it looks like on the other side of that granite prison wall in St Cloud! Or introduce readers to the pilot of that yellow crop dusting plane in Little Falls, or the guy who restores those broken down boats resting along US Highway 10 in Rice.
Maybe take a tour of Camp Ripley, or the Sherburne Wildlife Refuge, meet the owner of Thielen Meats, or discover why that broken down red-rusted rail car south of Baxter along State Highway 371 sits there in the field. From the free public zoo in Little Falls to the beautiful gardens of Clemens and Munsinger, there were literally hundreds of potential subjects, most of them stop-off points along the drive.
The Brainerd Bound Book is no longer Available.
When their cameras first entered the Crow Wing State Park, which gives an interpretive history lesson as to how Brainerd came to be, the book's focus shifted. Brainerd's modern day Paul Bunyan tourism dates back to a century-old history lesson as to how the railroad, logging and resort industries spawned the vacation lands we know today. Soon, the Authors recognized the need to focus not only on the drive up north but also on the destination and its culture-rich attractions.
As the book continued to unfold, the tourism that spreads throughout the Brainerd Lakes region--from Gull Lake to the Cuyuna Range, from the Whitefish Chain to Mille Lacs--was captured with still shots of power ice auger drilling tournaments, turtle races, Oktoberfests, ice fishing contests, tick races, the raising of the beans, the racing of the dragsters, or windsurfers, inline skaters and snowmobilers.
The journey continues as the cameras went fishing with Bob Hanson, Babe Winkelman, Marv Koep and Al Lindner. They learned how bears are carved with a chain saw, how walleyes are stocked in the lakes, how pumpkins are carved underwater, and what Mille Lacs looks like from a 100' fire tower at sunrise.
As luck would have it, the cameras ended up capturing the classic final year images of the Paul Bunyan Amusement Center for readers to preserve and hand down to future generations of Brainerd Bound families.