Paul Bunyanland Relocation & This Old Farm
Paul Bunyan Land and This Old Farm
Updated August 12 , 2009
Laura Hasse
Original Article Posted
August 8, 2006
Mary LaPorte
Many think that Paul Bunyan Land was lost forever when it moved from Brainerd, MN, but that is far from the truth. It was relocated to This Old Farm off of Highway 18 just minutes away from Brainerd, MN. Years were spent fixing up and making new of a classic park.
When you arrive at the new Paul Bunyan Land, Babe the Blue Ox will greet you in the parking lot. Towering over everyone who enters is Paul Bunyan himself. He looks like he was just carved with fresh paint, new boots and shirt. Little kids peer up at his big eyes and duck when he says their name.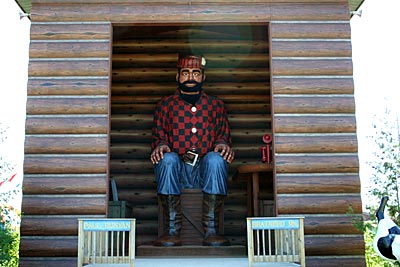 To the left of Paul is a dirt path that winds you through the park in a circle. The park is located in an open air field, not covered in pavement. You won't be overwhelmed with vendors and thousands of spectators. Parents sit in the middle on picnic tables and watch their kids run from one attraction to another.
The park is filled with all the favorites, Olde Tyme Photos, Roller Coaster, Swings, and Bumper Cars. It even has some new things like an old fashion candy shop and a ghost mine. This isn't just for older kids either, there are also rides for ages under five.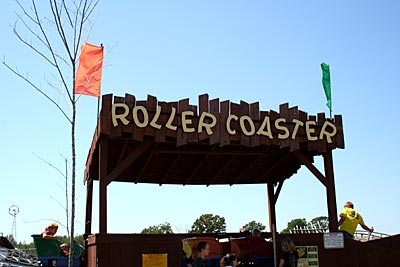 One of the fantastic things about the new location is that you feel like you are "up north". The park is clean; you can breathe in the fresh air and look out at the corn fields lining the property. There is nothing overwhelming and fast paced about it…contrary to what you may think, it's quite relaxing.
The dirt path eventually leads you back to Paul and from there you can wander into This Old Farm Pioneer Village. To get to the village you go through the old Bunk House where you can see life sized animated figures in restored kitchens and bunks of Paul's crew. You then walk past the animal petting barn and Chicken Coop – where real chickens will do tricks for you.
In the village itself you'll find a barn, Blacksmith Shop, Dentist Office, Train Depot, Filling Station, Fire Station, Grainery, authentic Log House, Post Office, Print Shop, Saw Mill, Saloon, School House, Shingle Mill, Sweet Shoppe and Trading Post.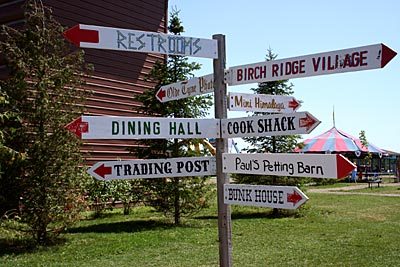 All of these are filled with thousands of antiques that relate to the buildings theme. Some of the antiques you may recognize from your childhood, while others date back to the early 1900s or older.
There are old cars parked under rusty sheds and baskets handing from ceilings. In the log house there are beds with quits tucked under stitched pillows. A foot away is a table with an antique oil lamp and bible next to a Singer sewing machine. The depots ticket station has a typewriter with a book lying beside it like someone was working there just 5 minutes ago.
You can get lost in thinking of what it may have felt like to live 100 years ago. Dolls, trinkets, and dentist chairs you wouldn't dare sit in. The old school house is set up with desks in strait rows and books lying clumsily on top like a child had just set it down.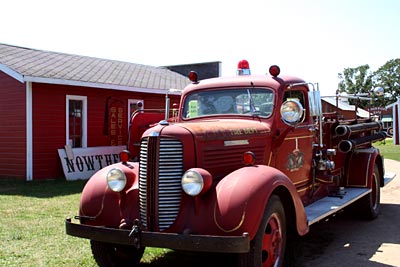 There are old fishing rods and Johnson motors – about ten of them. A newspaper dated August 14th, 1945 proclaiming the end of the war topping off a pile of various others. In an enclosed building you can find a 1953 Buick Roadmaster and just down the street an antique saloon that is serves beer once a year. There are wanted posters hastily tacked onto the walls next to a shelf stocked full with steel beer mugs.
Towards the end of the village is The Birch Ridge Depot, which is the original building from the Disney movie "Iron Will". There is also a car from the movie and other famous antiques you'll find and may even recognize inside.
Parked along the back of the depot is an original Northern Pacific Railway car with the logo bleached from the sun still nailed onto the side. Syrup and medicine jars line the shelf's inside the depot station next to a rack hung above the door with rusty ice skates. A can of Durham's Water putty sits on the shelf above the double paned window gleaming in the sun.
You can walk through each building freely. It's temping to go back more than once, you can't possibly take it all in during one trip to the village.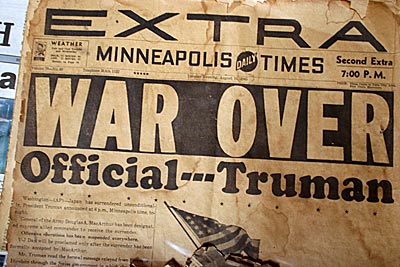 Every year in August the family that owns and operates the village puts the "Museum in Motion". You can show up for the Pioneer Breakfast in the morning and walk around the grounds and village.
There will be people dressed in the times working in the dentist office, print shop and other stores. There will be a bartender in the saloon serving beer and pop and blacksmith on site. You can see a 1919 Steam Threshers with a 1914 engine out on the field threshing during the day. Old music will fill the streets, there will be black powder gun demonstrations and rope making. A parade of antique cars and tractors and much more makes this a once a year event.
Please contact Paul Bunyan Land at 218-764-2524 for additional information including admission rates and hours of operation.