Nisswa-Stämman
Updated June 2, 2014
Laura Hasse
Original Article Posted
June 1, 2007
Laura Hasse
Traditions are very important in my family, just as they are in many other families I know. Traditions are most often associated with food, music or dance and have been passed through generations, dating back to before our ancestors even stepped foot on American soil. Paul Wilson, Director of the Nisswa-Stämman Nisswa Stämman sign - Scandinavian Folkmusic Festival(a Brainerd Lakes Area Scandinavian folk music festival), feels it's important to "embrace our heritage and keep it alive." Keeping these traditions alive reminds us of where we come from, the struggles that have been endured to get us here and the good times that gave our ancestors strength to make it through. The Nisswa-Stämman, provides a doorway for people to walk through to experience their Scandinavian heritage.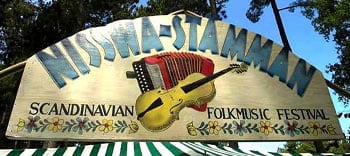 The Nisswa-Stämman was first held fifteen years ago to celebrate the culture of ScandinavianCello and Scandinavian/American folk music in Northern Minnesota. Scandinavian folk musicians Paul Wilson and his wife, Mary Abendroth, started the festival after being inspired by the growing number of Scandinavian folk musicians in the 1990s. On a trip they took to Scandinavia in 1999, they were so impressed with the spelmansstämmor musical gatherings they witnessed that they were impelled to share the experience with the many Scandinavians (and anyone else who might enjoy it!) right here in Minnesota. Now, with the help of 7 additional committee members, they plan this annual event that so many have come to enjoy.
The Nisswa-Stämman, typically draws a crowd of a couple thousand people. The 2014 event begins on Friday, June 6.Teaching a little boy how to build his own musical instrument Various instrumental workshops will be held at various locations in Nisswa, starting at 10:00 am and continue until 3:00 p.m. with a lunch break in the middle. Please note, however, that some workshops are only half-day workshops. Often, the workshop instructors are the musicians that will be performing throughout the festival. Some of the performers will be giving sneak peak performances this year as they perform Friday afternoon at a few local businesses. The evening activities include the concert at Lutheran Church of the Cross (Nisswa), followed by a dance at the Cole Memorial Building (under the bobber water tower), Pequot Lakes, MN.
The dancing and music continue on Saturday, June 7 when the doors open at 10:00 am and Fiddlers parade through downtown Nisswa.. Dancing, music, and children's activities are held at 5 different locations throughout Pioneer Village, which was chosen as the location for this event because of its similar characteristics to the spelmansstämmor gatherings in Scandinavia. The over 150 performers who take the stage at the Nisswa Pioneer Village are local, national and international, with groups from Maryland, Denmark, Sweden, and Norway. Saturday's schedule includes an evening Smörgåsbord at Chris Community Church (Nisswa) and a dance at the Cole Memorial Building (under the bobber water tower), Pequot Lakes, MN.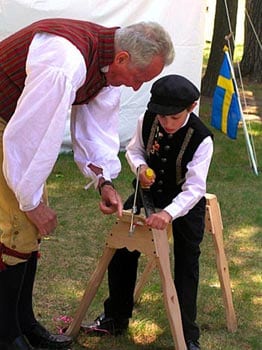 This festival is not typical of festivals as we know them today. Paul described it to me as "old-fashioned", saying that no vendors are present except for a food booth, coffee shops, and CD booths. All of the performers at Nisswa-Stamman perform because of their love for music; many of them receive only a small monetary remuneration in the form of a t-shirt, a lapel pin, a coffee voucher and a ticket to the Smörgåsbord. The event is funded with the help from the Mills Foundation and the Anderson Foundation and a grant that the committee has typically been able to secure through the Five Wings Arts Council. Paul also added that "the local businesses have been great"; their "good support" has helped make the event a success.
The Nisswa-Stämman is held rain or shine. The event planners are prepared for the weather by securing a back-Musical group playing their instruments on an outdoor stage.up "rain" location at the Nisswa Elementary School. However, since this is typically an outdoor event, Paul suggested that anyone who attends the festival also come prepared for the weather by bringing, for example, an umbrella or hats and sunscreen. Festival-goers are also reminded to bring their own lawn chairs since this is a Bring Your Own Seating event. If you'd like more information about the Nisswa-Stämman, please feel free to contact Paul Wilson at 218-764-2994 or pwilson@brainerd.net.
Attending the Nisswa-Stämman is sure to be a good time for all. It's a place where you can learn and have fun, whether you simply enjoy being around people, listening to music, or breaking loose on the dance floor. I think Paul explained it best when, like a true Scandinavian, he stated, "There's just so much going on; it's—UFFDA!"