Brainerd Hot Air Balloon Rides
Hot Air Balloon Rides in the Brainerd Lakes Area
August 1 , 2006
Mary LaPorte
On MSNBC's website you can find the article "Complete list of 50 things to do before you die". Among some of the things listed are "Skydive", "Travel the Nile in Egypt" and "Feed Sharks". All of which sound very interesting, but none of those particular ones you can actually do in Brainerd, MN.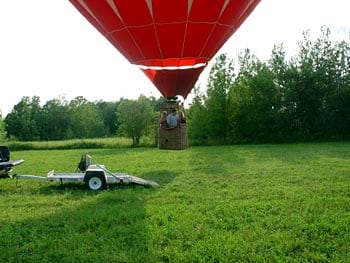 But don't give up hope yet, there is one thing you can do in the Lakes Area, its number 17 on the list, "Float in a hot air balloon". (MSNBC, Today Show)
Jim Ulhman is a pilot who owns and operates Beaver Dam Ballooning based out of Brainerd, Minnesota. He started flying helicopters in 1985 for the army and was a pilot in the Brainerd Area for many years. Jim went to Albuquerque for a two week training program to get his private license.
Jim says once you are up in the air the views are spectacular, it really is a once in a lifetime experience. You can see all the way from Pelican to Mille Lacs Lake if you get 800 feet off the ground on a good day.
Here is how it works:
Call Jim and let him know when you'll be in the area,
"If they are just staying here a weekend they can give me a call on Saturday…we could be ready on that short of notice".
To book a flight Jim said people should, "Pick two or three days where they feel that they can make it. Then I pencil them into the calendar and as those days come up I give them call them back, and say the weather looks good, are they still able to go?"
He checks the weather in the morning and afternoon on the flight day. After he determines it's a good day to fly he'll meet you at a parking lot or convenience store.
You'll drive out to the pre-determined launch site and help him inflate the balloon. Helping Jim is part of the experience of going up. Jim says,
"most of the flight occurs before we leave the ground".
When you first arrive at the launch site Jim will fill a helium balloon and let it go. This is to be sure the winds are going in the right direction and toward an area where he knows there will be landing sites. Then they take an 8 hp fan and push air into the envelope, this is called cold inflation.
The air fills the balloon, "you're spreading it out, trying to get as much cold air in there as you can. Once it's as full as you can get it then you'll start to applying heat …you shoot propane into it and the heat starts lifting the envelope and it spreads out a little further and then eventually you do a continuous burn until its upright"
Then you will gradually leave the ground. It's a very smooth ride contrary to what some people envision. You can bring your kids with you too…just remember Jim said, "I don't have a DVD player on board".
When you are in the air it is very peaceful. You get a 360 degree view of the land and lakes. There is hardly any noise, it's very quite and easygoing. You can hear whooping cranes, see turkeys roosting on the tops of trees, and deer walking through the woods.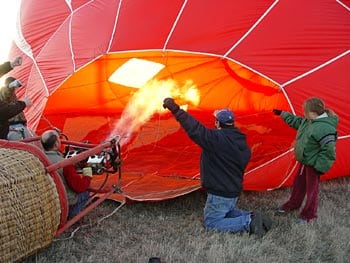 There is an un-obstructed view, and at 300 feet you can talk to people on the ground. Many times Jim can go so low that you'll be able to view the tree canopy and hear animals rustling.
While you are in the air a chase crew will follow your path to the landing site to pick you up and bring you back. The entire trip takes about 3 – 4 hours with about 1 hour in the air. At the end of the flight there is a celebration with non-alcoholic champagne.
This is a great way to pop the question, celebrate an anniversary, birthday or do it just to say you did. If you are staying at an area resort or hotel, you can call Jim and set it up for one of the days that you are in the area.
You'll be talking about it for years to come…and you even can check it off your list of things to do in your lifetime.
---
Common questions about Hot Air Balloon Rides:
How do I contact Jim?
Call Jim at 218-838-6191.
How much does it cost?
The cost is $175/ person. There is a minimum of 2 people and a maximum of 3 passengers.
Can I go on a particular date and time?
You should give Jim about a 1 to 2 day range that you are thinking you would want to go. He'll talk to you about weather and timing.
What time of the year can I go?
The "Season" is about April 1 up to November.
What time of the day is the best to go?
It's best to fly in the hours after sunrise and before sunset. The winds and weather are better at those times of day, but that doesn't mean you can't take an early or late afternoon flight.
Is it going to be cold up there?
The temperature doesn't start to change until you get much higher than the balloon goes. On a warm day you may feel some heat from the burner, but generally it's the same temperature as it is on the ground.
What kind of fuel is used?
The balloon is heated with propane, about 30 gallons.
Will the balloon set on fire?
The balloon is made out of nylon and is coated with a fire resistant chemical, so no it won't.
Is it safe?
Yes it is safe. The basket you are in is 3 – 4 ft tall and Jim is very careful with his passengers and crew. He checks the weather and follows all the proper procedures to ensure a safe flight. Jim has two daughters that have helped him take off for flights, and who go up themselves.
Can I bring my camera?
Yes you can bring your camera along. It would be difficult to recover if dropped, maybe bring a disposable.
Will I get sick in the air?
He said you would feel more movement going up in a glass elevator than in a balloon. It takes 15 seconds from him doing a burn to even see the movement.
References:
Jim Ulhman, Beaver Dan Ballooning, 218-838-6191
MSNBC, Today Show. "Complete list of 50 things to do before you die", www.msnbc.msn.com, 5/5/2005, New York, NY.